It's International Day of the Girl today, and so it seems a timely moment to write about Madame Yevonde, one of the twentieth century's most remarkable photographers.  Born in 1893 to a well-to-do family, she began her apprenticeship with the photographer, Lallie Charles, and soon set up her own studio in London's Victoria Street in 1914, at the prodigious age of 21.
Young, innovative, ambitious and thoroughly modern, Madame Yevonde recognised that the demure romanticism of Edwardian photographic portraiture had had its day and soon began to experiment with light, props and backdrops to present her sitters in an individual, original and often unconventional way.  She quickly built up her reputation and with it, a prestigious client base, often offering complimentary sittings to famous actresses and dancers as a way to establish her studio.  As her work began to appear in the smart, glossy society magazines such as The Tatler and The Bystander, her reputation as one of London's leading portrait photographers increased, and was confirmed after she was selected to take the engagement photographs of Lord Louis Mountbatten and Edwina Ashley in 1922.
The advent of the Vivex colour process in the 1930s, appealed greatly to Madame Yevonde's creative and dynamic personality and she immediately adopted the process as her own, lecturing evangelically on its creative possibilities.  Her first exhibition in 1932 showed 70 pictures, half of which were in colour, while in 1935, her "Goddesses" project, a set of images of leading society ladies depicted as Greek goddesses might arguably be the zenith of Madame's creative output.
We have represented Yevonde's work for over a decade, with images scanned from the Yevonde Portrait Archive's thousands of negatives and other images, many of them unavailable anywhere else, scanned from our run of society magazines in the ILN archive. We continue to discover more Yevonde images on a weekly basis, and in among the numerous society portraits, there are an intriguing number of portraits of women who were great talents themselves, whether as actresses and dancers, explorers, writers or sculptors.  So on International Day of the Girl, we thought we would hand pick a selection of Yevonde's notable sitters, some well-known, others obscured by the passage of time, but all (or at least most) deserving to be immortalised through Yevonde's camera lens.
Margaret Morris (1891-1980), dance pioneer – Yevonde and Margaret Morris were friends, a fact reflected in the number of photographs Yevonde took of her over the years. Morris's avant-garde ideas about dance began at an early age when she rebelled against the formality of ballet lessons and became influenced by Raymond Duncan, the brother of Isadora Duncan. She established a dancing school, funded by the novelist John Galsworthy after a brief if intense love affair, and began to adapt her techniques so that all abilities could benefit from her ideas about movement and free expression, notably disabled children. Alongside this, during the First World War she established a social club in Chelsea akin to a salon called the Margaret Morris Club, frequented by luminaries such as Augustus John and Charles Rennie Mackintosh. The Margaret Morris Movement system remains a touchstone of modern day dance.  Morris herself was still choreographing at the age of eighty-one for a production of 'Hair' in Glasgow, where she had settled in 1939 with her partner, the artist John Duncan Fergusson.

Clare Sheridan (1885-1970), writer and sculptor – The cousin of Winston Churchill (their mothers were sisters) Clare Sheridan rebelled against her privileged and stultifying existence from an early age. The death of her daughter in 1914, led her to sculpt a memorial headstone and realise she had found a talent, but in addition to her work as a sculptor, she spent periods as a war reporter and writer, living for a time in Soviet Russia, travelling by motorcycle across southern Russia in the 1920s and building a retreat for herself in Biskra, Algeria. The photographs by Yevonde of her in a feathered headdress were taken after she had spent time at an art colony on a Native American reservation in the Rocky Mountains, the result of which was a London exhibition of Native American heads she had whittled from forest trees.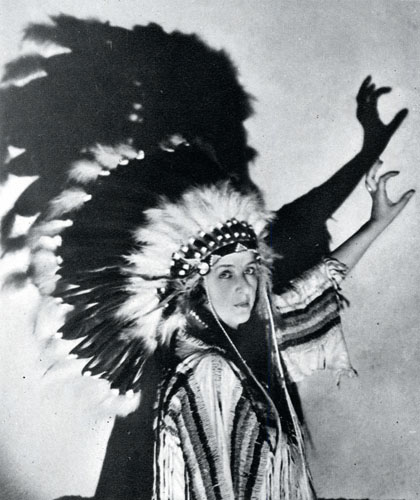 Elizabeth Cowell (1912-1998), TV broadcaster –  As one of the first three BBC television service announcers, Cowell was something of a poster girl for the corporation. She made her debut on 31 August 1936 at Alexandra Palace. This photograph from 1940, showing her examining a photograph of herself taken seven years earlier, is typical of Yevonde's playful use of symbolic props in her work.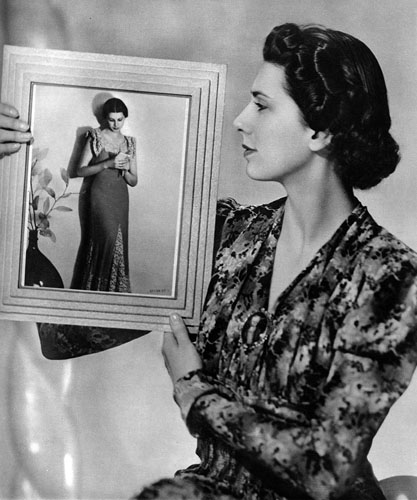 Barbara Cartland (1901-2000) – prolific novelist – Although in later years she was better-known for old-fashioned views on romance and an overpowering penchant for pink, as a young woman, Barbara Cartland began her writing career by providing gossip columns for the Daily Express, propelled mainly due to her family's dire financial circumstances. By the 1920s, she had climbed to the top of the social pyramid, not only as a journalist but as an indefatigable organiser of fetes, balls and charity matinees. Yevonde's portraits capture her at different periods of her life – as the fresh ingénue journalist and later, in her primped, glistering, bejewelled splendour in 1970. It's interesting to note that one Yevonde image was a commission for one of Cartland's numerous novels.

Lady Broughton (1894-1968) –  the first wife of Sir Jock Delves Broughton was an intrepid traveller, and this colour photograph, published in The Sketch in 1939, shows her with her squirrel monkey, Mr. Winks, whom she brought from British Guiana in 1938. Previously Miss Vera Griffith-Boscawen, she married Jock in 1913 and divorced him in 1940 (he would go on to marry Diana Caldwell and stand trial for the murder of her lover, Josslyn Hay, Earl of Erroll in Kenya). Vera travelled widely in South East Asia and was known as a big game hunter and fisherwoman. She was also a highly regarded photographer of natural subjects.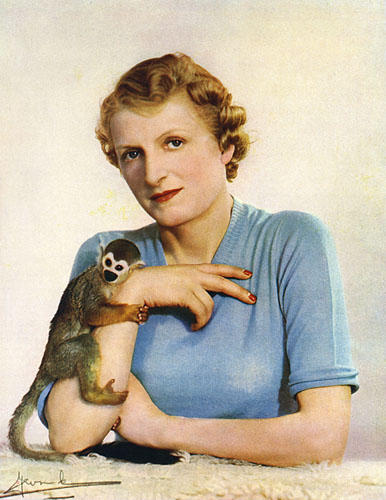 Marie Rambert (1888-1982) – ballet dancer & founder of the Rambert Dance Company. The Oxford Dictionary of National Biography describes Polish-born Rambert as "cultivated, dynamic, alert, witty, and chic" and this photograph by Yevonde of her with Frederick Ashton, which was published in The Tatler in June 1926, seems to sum up those qualities. The pair's pose was to promote a new ballet, "The Tragedy of Fashion" which was written and arranged by Marie's husband, Ashley Dukes, with music composed by Eugene Goossens.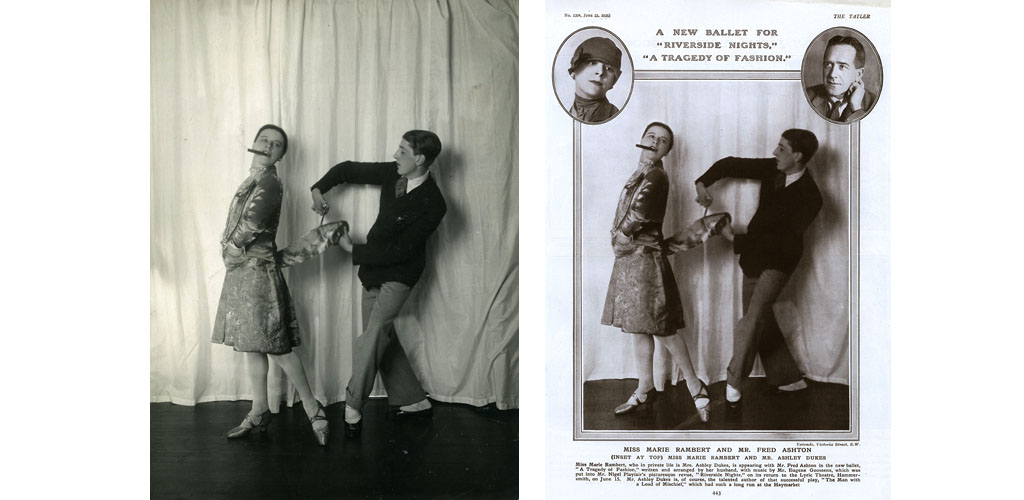 Jeni LeGon (1916-2012) – dancer and actress.  Jeni LeGon's speciality was tap and she was one of the first African-American women to establish a solo career in tap dancing, working with Fred Astaire and Bill "Bojangles" Robinson. This photo, which appeared in The Sketch in 1936, was taken at the time she was appearing in Charles Cochran's Follow the Sun at the Adelphi Theatre. In 1935, she had been offered a contract by MGM, another first for an American woman of colour, but Hollywood casting prejudices meant no role was found for her and she found that, despite her generous salary, she was segregated, taking her meals at the studio separately from the rest of the cast and crew. MGM bought out her contract leaving her to travel to Britain to appear in Cochrane's revue.  LeGon features as a pivotal inspiration in Zadie Smith's novel, 'Swing Time'.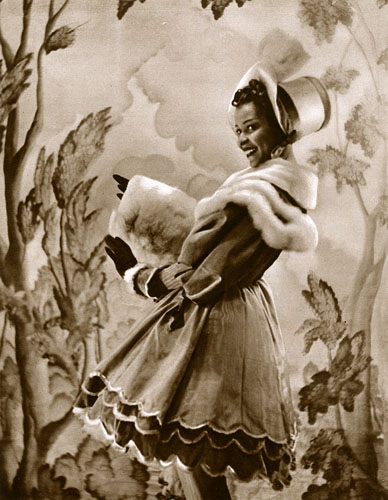 Marjorie Craigie (1888-1937), textile artist – Compared to other sitters in this list, little is known about Marjorie Craigie, and in fact, this picture, which was reproduced at a quarter page or so in The Sketch in 1930 isn't the best quality, but I wanted to include it because of the confident modernism of Craigie's personal style. The photograph was taken when an exhibition of her tapestries had just opened at the Bloomsbury Gallery, London. Working in silk and wool, she was influenced by the style of Picasso.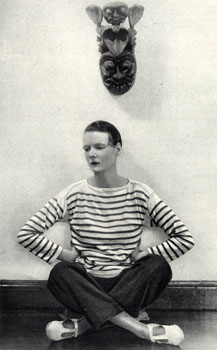 The Mitford Sisters – Talented, eccentric, with wildly differing political views, the six Mitford sisters were regular visitors to Madame Yevonde.  We have photographs of Jessica as a debutante, and Nancy and Diana in mirrored portraits during the 1930s when Yevonde was experimenting with all kinds of artistic effects. There is Debo in regal splendour as the chatelaine of Chatsworth and then, there is Diana, who, portrayed as Venus, was one of Yevonde's immortal goddesses.  The only one missing is Pam – but we live in hope of finding an image of her by Yevonde.

Jill Thomas (1902-1974), racing driver.  In her smart red ensemble, Eileen "Jill" Thomas is a chic and confident symbol of the growing number of women who took to the wheel during the 1920s and 30s.  Introduced to motor racing by her first husband, William "Bummer" Scott, she took part in races at Brooklands, including the first women's race in 1927, achieving a top speed of 113mph in a supercharged Sunbeam belonging to her husband. Remembered as a fearless and energetic driver, Jill's wonderful portrait sits alongside other motoring females we have in the archive such as Mrs Victor Bruce, Violet Cordery and Kay Petre.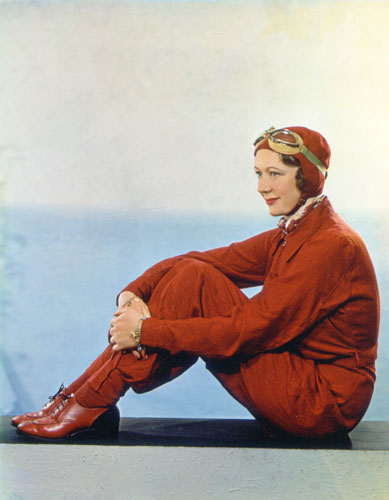 Dacia (dates unknown) – dancer.  Dacia, the stage name of Miss D. Smallwood, caused something of a sensation when she appeared in the hit musical 'Chu Chin Chow' during the First World War. Yevonde photographed her a number of times, perfectly capturing her sensuous, sultry looks; the 1920 image of her, smoking from a curled glass cigarette holder, shows her out of costume but still exhibiting her trademark exotic allure. In 1919, she married Colonel Critchley Salmonson of the Royal Fusiliers, City of London Regiment and, as far as we can tell from our records here, she did not return to the stage.

Eileen Bennett Whittingstall (1907-1979) – tennis player.  Eileen Bennett's legacy suffers somewhat from playing at a time when Helen Wills Moody was dominating women's tennis. Nevertheless, between 1927 and 1931 she won six Grand Slam doubles titles and was a finalist at the French Championship in 1928 and the US Championship in 1931, losing to Moody on both occasions. As a British player, she was the darling of the illustrated magazines and proved a willing sitter for Yevonde, whose circular portrait of Bennett is particularly inventive.
For many more portraits of famous (and infamous) men and women, type 'Madame Yevonde' into our keyword search box.  Mary Evans Picture Library are copyright owners of all Madame Yevonde's black & white photography and we are also able to license examples of her colour photography.  Do get in touch if you'd like to discuss a project.