Warning
: include(topMenuBar.php): failed to open stream: No such file or directory in
/home/domains/maryevans.com/docs/poetryblog.php
on line
78
Warning
: include(): Failed opening 'topMenuBar.php' for inclusion (include_path='.:/usr/share/php') in
/home/domains/maryevans.com/docs/poetryblog.php
on line
78
Warning
: include(topFullWidth.php): failed to open stream: No such file or directory in
/home/domains/maryevans.com/docs/poetryblog.php
on line
79
Warning
: include(): Failed opening 'topFullWidth.php' for inclusion (include_path='.:/usr/share/php') in
/home/domains/maryevans.com/docs/poetryblog.php
on line
79
Warning
: include(poetrySideBar.php): failed to open stream: No such file or directory in
/home/domains/maryevans.com/docs/poetryblog.php
on line
81
Warning
: include(): Failed opening 'poetrySideBar.php' for inclusion (include_path='.:/usr/share/php') in
/home/domains/maryevans.com/docs/poetryblog.php
on line
81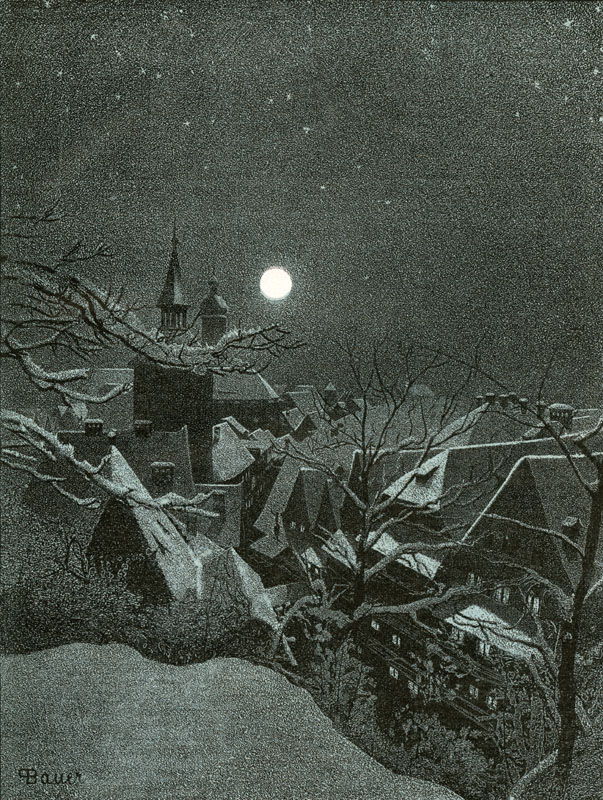 White Christmas
When the Christmas Eve snow silenced the traffic
that screamed through our village,
mother and I, stolen chocolate and
frowning school report forgotten,
trespassed with present opening thrill
into the middle of the highway
and thumbing our noses at the muzzled motors,
danced with Isadora Duncan abandon,
accompanied by the wild flurry of an agitated snow globe.
Then organic as a musical, I suddenly began to trill
''I am the lord of the dance";
the gold of mother's ''How clever you are''
as if I'd spontaneously composed
the drilled piece from my school's repertoire.
Catching the song, she and I sang and danced
in the harmony of our own ''White Christmas".
© Fiona Sinclair
Picture 10004169, illustration by Peter Bauer in Jugend, January 1898, image copyright Mary Evans
Fiona Sinclair lives in Kent with her husband. Her work has appeared in numerous publications. Her first published pamphlet was Dirty Linen (2010, Koo Press, Scotland). Two pamphlets followed this: A Game of Hide and Seek (2012) and Wonderland (2013), both with Indigo Dreams Press. Her first full collection was Ladies Who Lunch (2014, Lapwing Publications, Belfast). Her sixth  pamphlet was Slow Burner (Smokestack). Fiona will be launching a new online poetry magazine, from the edge poetry, in January 2019. Her seventh collection, The Time Travellers' Picnic, will be published by Dempsey & Windle in March 2019.