Warning
: include(topMenuBar.php): failed to open stream: No such file or directory in
/home/domains/maryevans.com/docs/poetryblog.php
on line
78
Warning
: include(): Failed opening 'topMenuBar.php' for inclusion (include_path='.:/usr/share/php') in
/home/domains/maryevans.com/docs/poetryblog.php
on line
78
Warning
: include(topFullWidth.php): failed to open stream: No such file or directory in
/home/domains/maryevans.com/docs/poetryblog.php
on line
79
Warning
: include(): Failed opening 'topFullWidth.php' for inclusion (include_path='.:/usr/share/php') in
/home/domains/maryevans.com/docs/poetryblog.php
on line
79
Warning
: include(poetrySideBar.php): failed to open stream: No such file or directory in
/home/domains/maryevans.com/docs/poetryblog.php
on line
81
Warning
: include(): Failed opening 'poetrySideBar.php' for inclusion (include_path='.:/usr/share/php') in
/home/domains/maryevans.com/docs/poetryblog.php
on line
81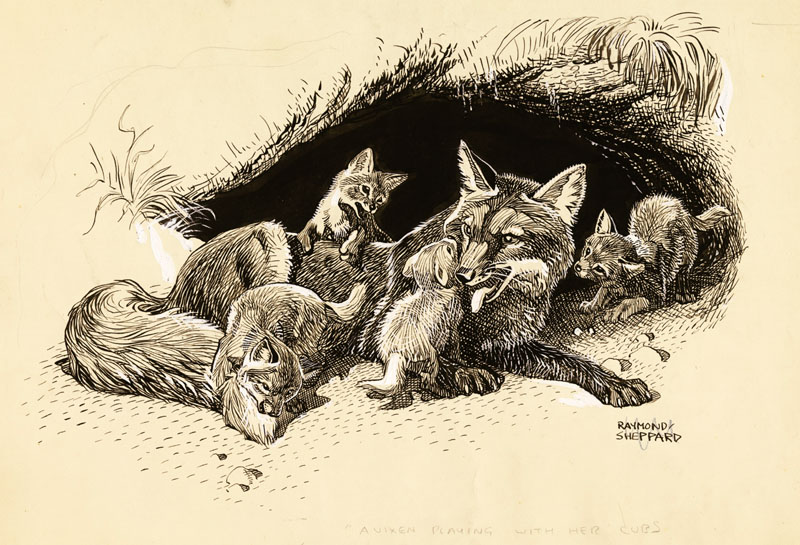 Vixen
I have seen you thread yourself through our neighbour's fence,
then tread across the wall of the fishpond, your delicate dance
by the trellis where the rain has ruined the clematis. At last
you stop, freeze, angle your curious face in my direction, rest
there, I think, come closer, because your presence is a gift.
I have a premonition of the next frames of this film: the swift
leap off the patio, the slink through the wrought-iron gate.
And so it is, but not before your muzzle quivers and you treat
yourself to the scent of the change of the season, to my human
essence. The way you carry your bones – like a woman
uncertainly picking her way home through a badly-lit street
from the house of the lover she was unlucky to meet.
© Pam Thompson
Picture 10434280, pen and ink and gouache by Raymond Sheppard, mid-20th century, image copyright Mary Evans / Raymond Sheppard Collection
Pam Thompson is a poet, lecturer, reviewer and writing tutor based in Leicester. She has been published in The Rialto, Mslexia, The North, Butcher's Dog, Poetry Salzburg, The Interpreter's House and  Under the Radar among others. Her collections include The Japan Quiz (Redbeck Press, 2009) and Show Date and Time (Smith|Doorstop, 2006). Pam has a PhD in Creative Writing and her second collection, Strange Fashion, was recently published by Pindrop Press. Pam is a 2019 Hawthornden Fellow.