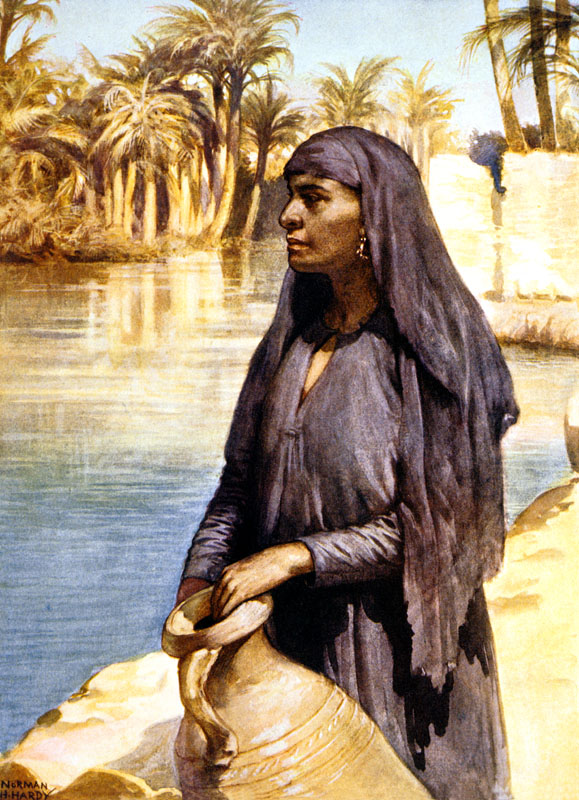 At the Well
Today, the feel of water
against my skin
brings no pleasure as it once did.
My husband dead,
my heart has become cold
like this water,
the heat from the desert
can no longer warm it.
I would like to drop this jug
and watch it smash to pieces
on the hardened ground,
like the shards
of earthenware that mark
my husband's grave in the fig grove.
Such fragments of baked clay
are how we hold to our dead.
Our son, our daughters
and Ahmed his friend,
who grieves as much as any,
each carry a piece with them.
But our store of memories
and all the stories Ahmed tells
in the house each evening,
will not return him to us.
Here at the well, beside
the red sands that he loved,
I feel this jug grow heavy in my hands,
try imagine him here with me again.
But his face will not hold,
shifts in my mind like the shifting
sands of my loss, the silence
of the emptied rooms of our house.
The moon hangs above
the gathering dunes like my
bloated heart and longing bones,
as I begin my journey home
as nightfall comes.
© Noel Duffy
Picture 10985608, illustration by Norman H Hardy, 1900s, image copyright Mary Evans / Classic Stock
Noel Duffy's debut collection In the Library of Lost Objects was published by Ward Wood Publishing, London, in 2011 and was shortlisted for the Shine/Strong Award for best first collection by an Irish poet. His second collection On Light & Carbon followed in autumn 2013. His poetry has appeared widely, including in The Irish Times, The Financial Times and Poetry Ireland Review, and has been broadcast on RTE Radio 1 and BBC Radio 4. His latest collection, Summer Rain, appeared in 2016, again with Ward Wood. A fourth collection, Street Light Amber, will be published in spring 2019.