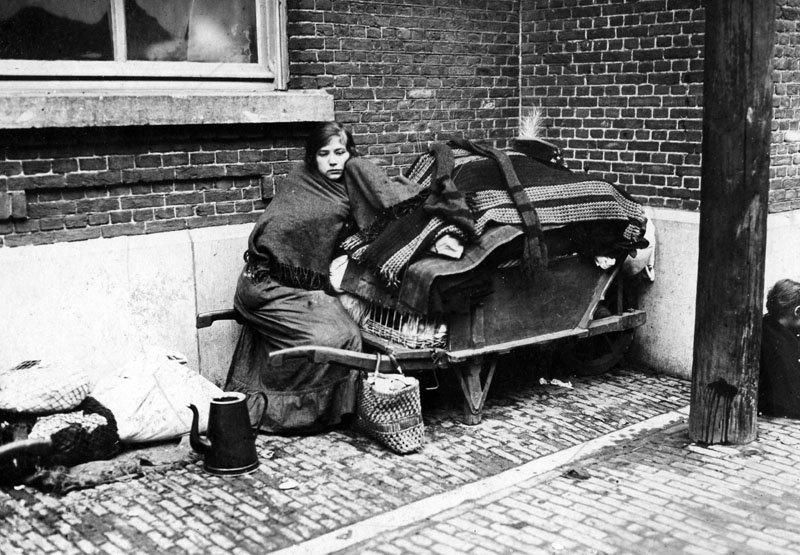 Refugee
No one knew how
she smuggled a piano,
wrapped in a blanket,
all the way from the city.
We didn't want trouble,
neighbours said we should burn it,
but if you saw how she touched it,
you'd know why we found
a hiding place in a distant shed.
Like everyone else,
she spent long days in the fields
but come the night,
she'd be gone for hours at a time.
We didn't ask,
didn't want to know;
only sometimes we heard notes
carried, as if from the heavens,
by hard frost or on the wind.
© Jane Clarke
Picture 10818799, photograph, 1914, image copyright Mary Evans / Suddeutsche Zeitung
Jane Clarke's first collection, The River, was published by Bloodaxe Books in 2015 to both public and critical acclaim. It was shortlisted for the Royal Society of Literature's Ondaatje Prize in 2016, when she also won the Hennessy Literary Award for Poetry and the inaugural Listowel Writers' Week Poem of the Year Award. Her second collection, When the Tree Falls, will be published by Bloodaxe Books in September 2019. All the Way Home, a pamphlet of poems and photographs inspired by the Auerbach World War One family archive held by the Mary Evans Picture Library, London, will be published in April 2019. These poems explore the experience of war through the story of one brother and sister. Jane grew up on a farm in the west of Ireland and now lives in Glenmalure, Co. Wicklow. www.janeclarkepoetry.ie