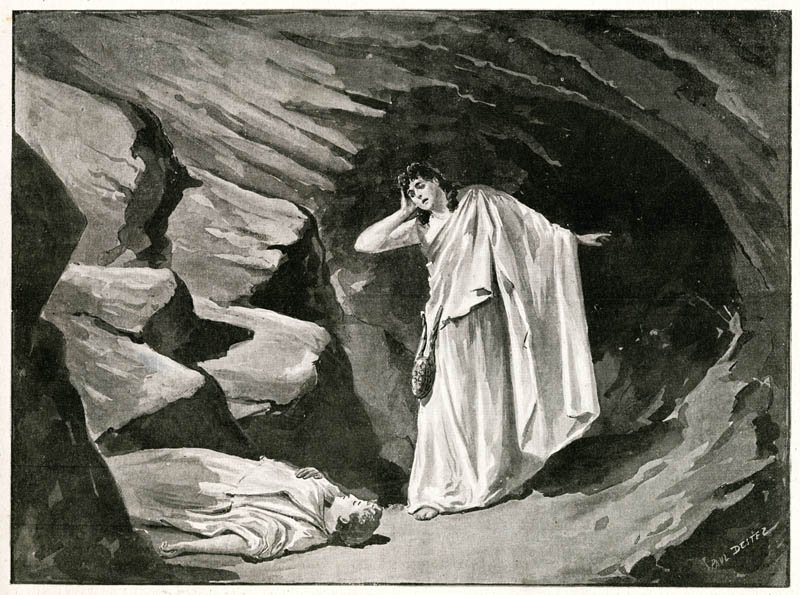 Eurydice
I am not afraid as I descend,
123step by step, leaving behind the salt wind
123456blowing up the corrugated river,
the damp city streets, their sodium glare
123of rush-hour headlights pitted with pearls of rain;
123456for my eyes still reflect the half-remembered moon.
Already your face recedes beneath the station clock,
123a damp smudge among the shadows
123456mirrored in the train's wet glass.
Will you forget me? Steel tracks lead you out
123past cranes and crematoria,
123456boat yards and bike sheds, ruby shards
of Roman glass and wolf-bone mummified in mud,
123the rows of curtained windows like eyelids heavy
123456with sleep, to the city's green edge.
Now I stop my ears with wax, hold fast
123the memory of the song you once whispered in my ear.
123456Its echoes tangle like briars in my thick hair.
You turned to look …
123Seconds fly past like birds.
123456My hands grow cold. I am ice and cloud.
This path unravels.
123Deep in hidden rooms filled with dust
123456and sour-night breath the lost city is sleeping.
Above, the hurt sky is weeping,
123soaked nightingales have ceased to sing.
123456Dusk has come too early. I am drowning in blue.
I dream of a green garden
123where the sun feathers my face
123456like your once eager kiss.
Soon, soon I will climb
123from this blackened earth
123456into the diffident light.
© Sue Hubbard
Picture 10108896, engraving by Paul Destez, 1896, image copyright Mary Evans
Sue Hubbard is an award-winning poet, novelist and freelance art critic, with an MA in Creative Writing from the University of East Anglia. She is twice winner of the London Writers Competition, with a third prize in the National Poetry Competition. Her publications include Everything Begins with the Skin (Enitharmon), Ghost Station, The Forgetting and Remembering of Air (Salt), and The Idea of Islands (Occasional Press). Swimming to Albania, her fourth collection, is due from Salmon Press, Ireland, in Spring 2020. Twenty of her poems were included in An Anthology: Carcanet 2000. Her poetry has been recorded for The Poetry Sound Archive, read on Poetry Please, The Verb and Front Row, and appeared in numerous magazines and anthologies, as well as in The Irish Times and The Observer. She has published a collection of short stories, Rothko's Red (Salt), and two novels, Depth of Field (Dewi Lewis) and Girl in White (Cinnamon Press), for which she received a major Arts Council Award in 1999. Her third novel, Rainsongs, was published in Spring 2018 to great critical acclaim from The Guardian, The Irish Times, The Irish Independent and The Jewish Chronicle, among others; it is published in the US by Overlook Press and is due out in China and France. As an art critic she has written regularly for The Independent, Time Out, The New Statesman and many leading art magazines. Her selected art writings, Adventures in Art, are published by Other Criteria. As The Poetry Society's only Public Art Poet, she was responsible for London's largest public art poem, 'Eurydice', in the IMAX tunnel at Waterloo, commissioned by the late architect Bryan Avery as part of the South Bank regeneration. Following its destruction by Network Rail in 2011 it was restored due to wide press coverage and public subscription. It has recently been damaged again during maintenance work, and further steps are being taken to ensure its restoration.