Warning
: include(topMenuBar.php): failed to open stream: No such file or directory in
/home/domains/maryevans.com/docs/poetryblog.php
on line
78
Warning
: include(): Failed opening 'topMenuBar.php' for inclusion (include_path='.:/usr/share/php') in
/home/domains/maryevans.com/docs/poetryblog.php
on line
78
Warning
: include(topFullWidth.php): failed to open stream: No such file or directory in
/home/domains/maryevans.com/docs/poetryblog.php
on line
79
Warning
: include(): Failed opening 'topFullWidth.php' for inclusion (include_path='.:/usr/share/php') in
/home/domains/maryevans.com/docs/poetryblog.php
on line
79
Warning
: include(poetrySideBar.php): failed to open stream: No such file or directory in
/home/domains/maryevans.com/docs/poetryblog.php
on line
81
Warning
: include(): Failed opening 'poetrySideBar.php' for inclusion (include_path='.:/usr/share/php') in
/home/domains/maryevans.com/docs/poetryblog.php
on line
81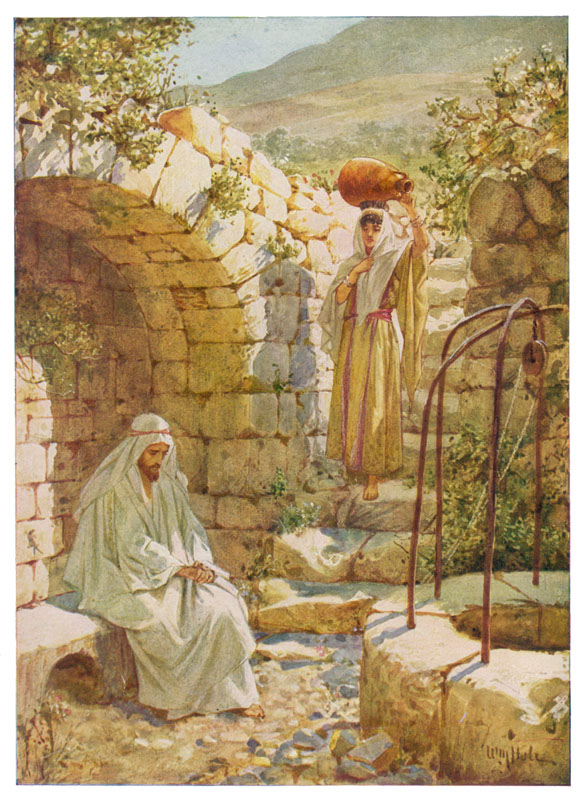 How the light gets in
i.m. Leonard Cohen and cf. John 4:5-42
The other women had been
and gone before I lifted
my water jar, walked out
in the midday heat.
I met him
at the well's edge.
He asked for a drink
and I gave him backchat.
He offered a wellspring
and I thought of stone,
He said, call your husband,
and I spoke the truth.
I'd had five husbands,
lived with a man
who wasn't the sixth,
set the caged dove free
so anyone could hear
what the well echoed
and the Messiah
already knew as he sat,
watched, read
my heart's dark places,
shone a path
through its brokenness.
© Sheila Jacob
Picture 10025091, illustration by William Hole, circa 1890, image copyright Mary Evans
Sheila Jacob was born and raised in Birmingham, and lives with her husband in North Wales. She has three children and five grandchildren. She resumed writing poetry in 2013 after a long absence and considers herself to be an old new poet. She's had poems published in Sarasvati, The Dawntreader, The Cannon's Mouth, Clear Poetry, The Poetry Shed and on The Poetry School Blog. She has recently self-published a collection of poems, Through My Father's Eyes, forming a memorial to her father.