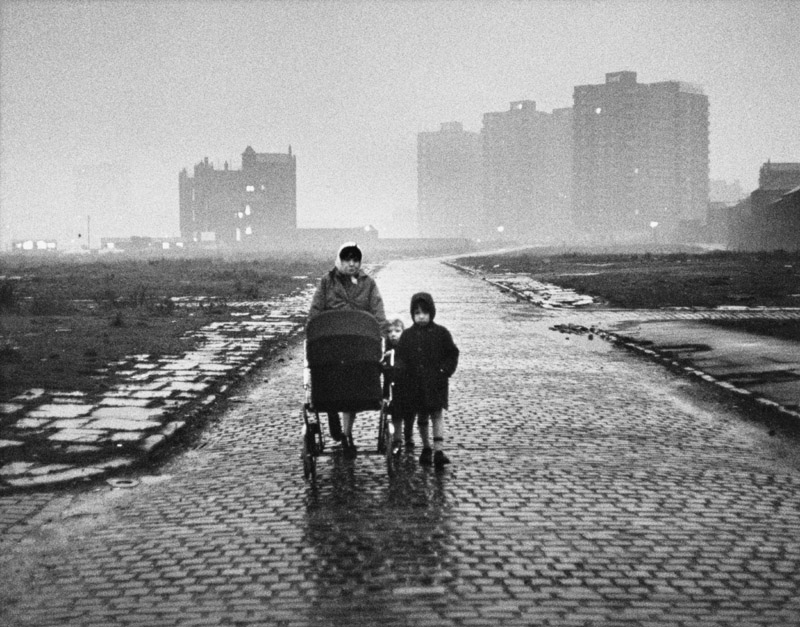 Shirley Baker's Photo of Salford, 1964
The road's still there, stretching out behind
them like a river of light that curves
towards the optimistic blocks of flats
and away from the wrecked mill.
The pavements persist on both sides.
Their hopscotched slabs glisten in the rain.
The houses have gone. Their house-dust still
falls onto the mud and weeds. Somewhere
there's a plan, lines drawn across the map
of front rooms, birthdays and back alleys
that makes all this happen.
The figures in the foreground – mother, two kids,
a pram – are stalled by the surprise of a camera
pointed at them, refugees fleeing a war zone.
Only the small boy, squashed between pram
and brother, dares to be curious, out-stares the lens.
The camera does not know your mother won't
recall the photo being made. She'll live in a sparse
comfort. She'll leave your father. Your brother will
die. That road will be ripped up, sold off for
paths and driveways.
© Stephen Devereux
Picture 10239520, photograph by Shirley Baker, 1964, image copyright Mary Evans / Shirley Baker Collection
Stephen Devereux writes poetry, plays, essays and short stories. He has had his work published in many magazines, journals and websites in the UK, Ireland, Germany, Austria, Australia and USA. He has won or been shortlisted in many competitions. He was born in rural Suffolk and worked on farms and in factories until going to UEA as a mature student. Since then he has taught in schools, colleges and universities in the North West. He lives in Liverpool.