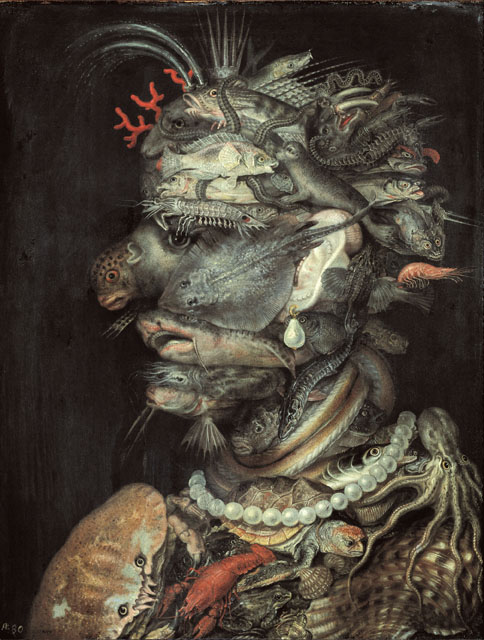 Oceanic Man
after Arcimboldo
Bladderwrack for hair, whelk shells for eyes,
ear is a seahorse curled in a mermaid's purse.
Blubbery bivalve lips, flounder for cheek,
a ruff of white feathers, gull and tern and avocet,
crab-claw fingers, carapace-armoured chest  –
he wades into the ocean, a silver-scaled giant
taller than a three-master, scanning the horizon
for a mate out there. Perhaps she basks
on a sandbank, as sleek and spotted as a seal,
dives in the company of dolphins or sea-otters,
glides through ribbed wrecks, jellyfish-translucent,
edged with blue luminescence.
1234567890123456789012345678The sirens call.
He strides in deeper and, as he does so, feels
the soft touch of fronds, suddenly tightening, not
fronds after all but taut line, entwining cables,
hobbling him ankle and thigh. He is pulled down
into venomous waters, gobbling plastic, metal, turds
as he goes under and is wound into the vortex,
ripped apart, re-made of all the garbage of the seas.
Fishing gear for ribcage,
12345678901lungs of polythene,
123456789012345678901 bottletops for eyes.
© Derek Sellen, previously published in Records, Rivers and Rats (Earlyworks Press)
Picture 10211929, reproduction of a painting by Giuseppe Arcimboldo, 16th century, image copyright Mary Evans / Iberfoto
Derek Sellen's work has been published widely and received awards over many years. He won the O Bheal Poetry Competition in 2015, Hungry Hill Poets Meet Politics in 2014, and the Poetry Pulse Annual Competition in 2017. Other recent successes include an award at Poetry on the Lake, and being shortlisted in various 2017 poetry competitions. A collection, The Other Guernica, was published in 2018. He lives in Canterbury, Kent, and is an active member of SaveAs Writers. Recently Derek has become Canterbury Festival Poet of the Year after winning the Festival's international poetry competition.