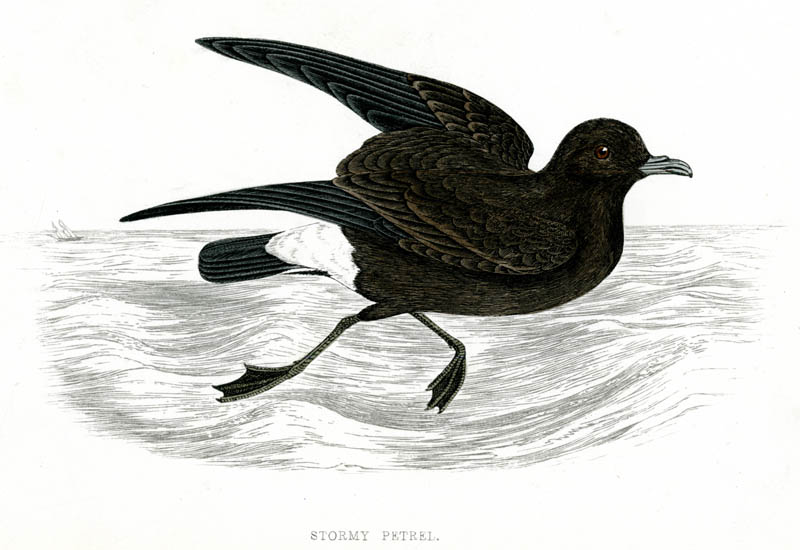 Storm Petrel
Little thing, hardly an ounce in my hand –
a feather weight you are, my water witch.
Mitty, some call you or Walk On Water,
a follower of Peter, you paddle the sea.
Hated by sailors for your love of slop,
harbinger of lower weather,
you tell of storms to come,
need their wind to fly and feed.
Both insult and compliment,
revolutionary Tom Tailor bird
you fly like a bat, burrow like a mouse
shelter and roost in warm island earth.
Oily enough to be killed, dried, burned
as a candle to light Shetland homes –
you shine still, haunt us,
your call a spooky chattering.
© Eithne Hand
Picture 10137181, illustration by F O Morris, 1851, image copyright Mary Evans
Eithne Hand is from Co Wicklow in Ireland. She has had poetry published in THE SHOp, Southword, Crannog, The Irish Times and Poetry Ireland Review. Her work has been shortlisted for the Patrick Kavanagh Award, was highly commended in the Gregory O'Donoghue Prize in 2016 and shortlisted for the Fish Poetry Prize 2018.  Her first collection, Fox Trousers, will be published by Salmon Poetry in 2020.