Warning
: include(topMenuBar.php): failed to open stream: No such file or directory in
/home/domains/maryevans.com/docs/poetryblog.php
on line
78
Warning
: include(): Failed opening 'topMenuBar.php' for inclusion (include_path='.:/usr/share/php') in
/home/domains/maryevans.com/docs/poetryblog.php
on line
78
Warning
: include(topFullWidth.php): failed to open stream: No such file or directory in
/home/domains/maryevans.com/docs/poetryblog.php
on line
79
Warning
: include(): Failed opening 'topFullWidth.php' for inclusion (include_path='.:/usr/share/php') in
/home/domains/maryevans.com/docs/poetryblog.php
on line
79
Warning
: include(poetrySideBar.php): failed to open stream: No such file or directory in
/home/domains/maryevans.com/docs/poetryblog.php
on line
81
Warning
: include(): Failed opening 'poetrySideBar.php' for inclusion (include_path='.:/usr/share/php') in
/home/domains/maryevans.com/docs/poetryblog.php
on line
81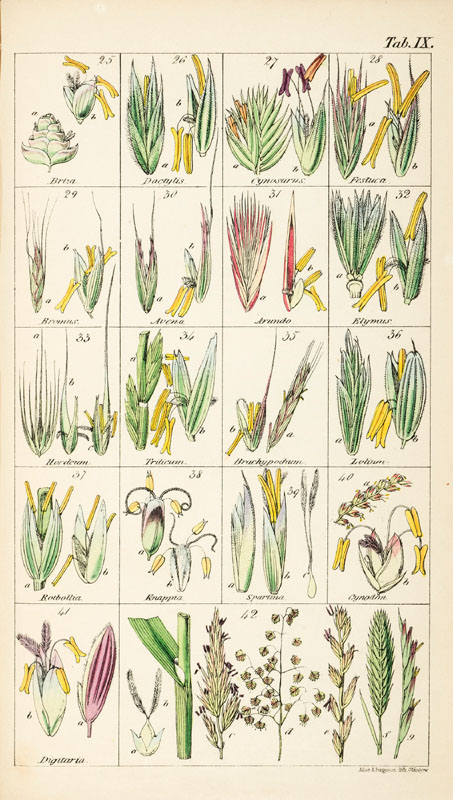 Meadow Grasses
The mouth desires the names of meadow grasses:
Cocks foot, Cat's tail, Dog's tooth, Fox tail, Timothy.
© Janet Sutherland, first published in Home Farm, 2019
Picture 10972045, chromolithograph, Sir William Jackson Hooker, British Flora, 1830s, image copyright Mary Evans / John Innes Collection
Janet Sutherland was born in Wiltshire and grew up on a dairy farm. She has written four books of poetry, most recently Home Farm (Shearsman, 2019), and is working on her fifth. Her poems are widely anthologised and recent poems have appeared in the New Statesman and The Spectator.  She won the 2017 Kent and Sussex Poetry Prize and received a Hawthornden Fellowship for 2018.  Her essay 'Reznikoff and his Sources' appeared as an afterword to the Black Sparrow (US) and Five Leaves (UK) editions of Reznikoff's Holocaust.  A founder member of Needlewriters writers' cooperative, she lives in Lewes, East Sussex.