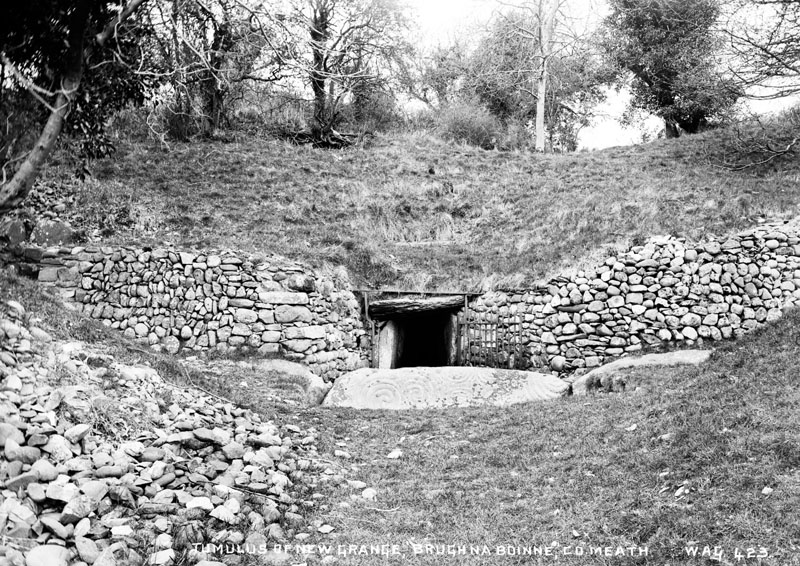 Solstice Art
1.
Tourists swarm the ice-cream cart
or shuffle to the Palm House.
The glass sweats beside a sun
set down on canvas, and they
point to the highest frame –
watching the paint swirl around
dots splattered in a southern sky.
2.
The sun rises in the North.
A strip of light stretches
along a megalithic tomb
illuminates a cruciform chamber
its chiselled curves of rock
on rock. The spirits of the dead
ignite, at last, and rise like dust.
© Stephanie Conn
Picture 11054209, photograph by W A Green, circa early 1900s, image copyright Mary Evans / National Museums Northern Ireland
Stephanie Conn was born in Northern Ireland in 1976. She is a poet, creative writing facilitator and former primary school teacher. A graduate of the Creative Writing MA at the Seamus Heaney Centre, Queens University, Stephanie is currently completing a PhD by Practice: Poetry at Ulster University. Stephanie's poetry has been widely published and she has read her work locally, nationally and internationally. Her poetry prizes include the Yeovil Poetry Prize, the Poetry Business Poetry Pamphlet Competition and the inaugural Seamus Heaney Award for New Writing. Her debut collection The Woman on the Other Side (Doire Press) and her pamphlet Copeland's Daughter (Smith/Doorstop) were published in 2016. Her most recent collection Island (Doire Press) was published in 2018. Stephanie is working on a new collection that considers the experience of chronic illness. https://stephanieconn.org