Warning
: include(topMenuBar.php): failed to open stream: No such file or directory in
/home/domains/maryevans.com/docs/poetryblog.php
on line
78
Warning
: include(): Failed opening 'topMenuBar.php' for inclusion (include_path='.:/usr/share/php') in
/home/domains/maryevans.com/docs/poetryblog.php
on line
78
Warning
: include(topFullWidth.php): failed to open stream: No such file or directory in
/home/domains/maryevans.com/docs/poetryblog.php
on line
79
Warning
: include(): Failed opening 'topFullWidth.php' for inclusion (include_path='.:/usr/share/php') in
/home/domains/maryevans.com/docs/poetryblog.php
on line
79
Warning
: include(poetrySideBar.php): failed to open stream: No such file or directory in
/home/domains/maryevans.com/docs/poetryblog.php
on line
81
Warning
: include(): Failed opening 'poetrySideBar.php' for inclusion (include_path='.:/usr/share/php') in
/home/domains/maryevans.com/docs/poetryblog.php
on line
81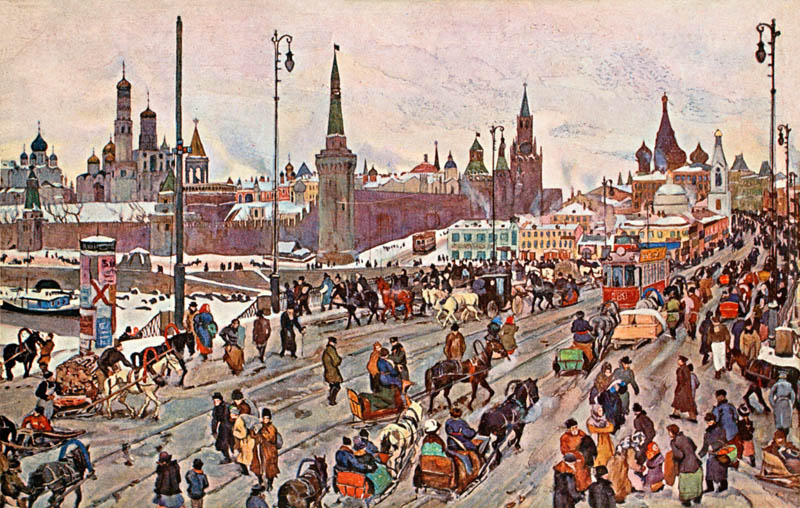 Tapestry Coat
Moscow, January, a thin tapestry coat –
buildings shone in the moonlight –
blues and reds like my frail coat all woven
against the white sky.
It's the 70s, black-market streets, ice pavements
Even the food didn't warm, hard boiled eggs
floating in cabbage broth. Every bit of the cold
I was responsible for – failed marriage, carrying a child
with a man I thought could have been a husband
– I tried to phone home.
My money didn't understand the system and roubles
dropped through. Every night I prayed to a God
I no longer believed in and tried to imagine Mam-Gu,
disbelief in her voice, Fy Dduw, Fy Dduw, bach …
Fy Dduw123My God
bach123456dear, little one
© Wendy French
Picture 10290143, illustration on a postcard, early 20th century, image copyright Mary Evans / John Massey Stewart Collection
Wendy French has three collections of poetry published: Splintering the Dark (Rockingham Press, 2005), surely you know this (Tall Lighthouse, 2009), and Thinks Itself A Hawk (Hippocrates Press, 2016), the latter resulting from her time as Poet in Residence at the UCH Macmillan Cancer Centre, 2014-2015. She was joint editor with Dilys Wood of Fanfare (Second Light, 2015), a book of poems written by women poets, and also co-edited The Hippocrates Book of the Heart (Hippocrates Press, 2017) with Prof Michael Hulse and Prof Donald Singer. She won the Hippocrates Poetry and Medicine Prize (NHS section) in 2010 and was awarded second prize in 2011. Her collaboration with Jane Kirwan resulted in the book Born in the NHS (Hippocrates Press, 2013). She has judged or co-judged three major poetry competitions: the Torbay International Competition, the Torriano Competition and the Tongues and Grooves 10-year celebration competition, as well as the Hippocrates International Poetry Competition for poems relating to medicine or the body. For the past twenty years she has facilitated creative writing in healthcare settings, having finished her formal teaching career as head of the Maudsley and Bethlem Hospital School in 2003.