Warning
: include(topMenuBar.php): failed to open stream: No such file or directory in
/home/domains/maryevans.com/docs/poetryblog.php
on line
78
Warning
: include(): Failed opening 'topMenuBar.php' for inclusion (include_path='.:/usr/share/php') in
/home/domains/maryevans.com/docs/poetryblog.php
on line
78
Warning
: include(topFullWidth.php): failed to open stream: No such file or directory in
/home/domains/maryevans.com/docs/poetryblog.php
on line
79
Warning
: include(): Failed opening 'topFullWidth.php' for inclusion (include_path='.:/usr/share/php') in
/home/domains/maryevans.com/docs/poetryblog.php
on line
79
Warning
: include(poetrySideBar.php): failed to open stream: No such file or directory in
/home/domains/maryevans.com/docs/poetryblog.php
on line
81
Warning
: include(): Failed opening 'poetrySideBar.php' for inclusion (include_path='.:/usr/share/php') in
/home/domains/maryevans.com/docs/poetryblog.php
on line
81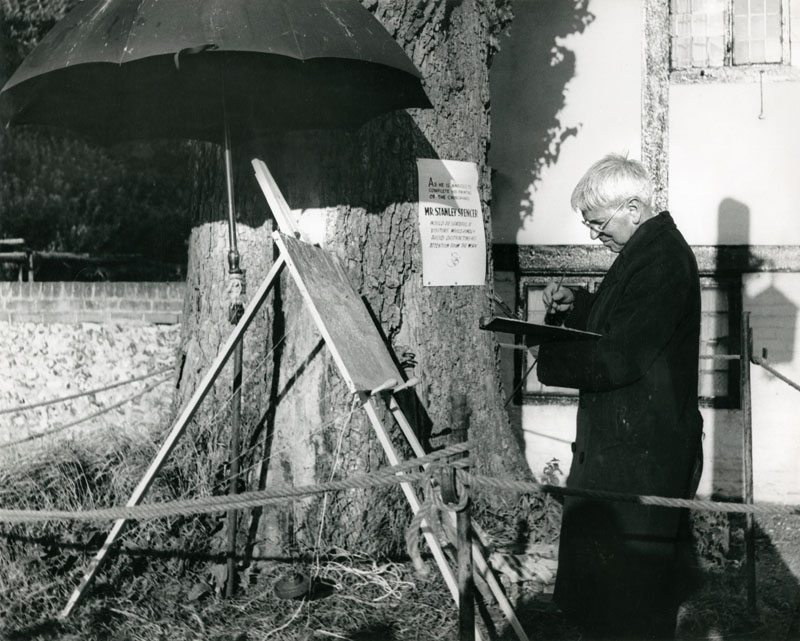 In Cookham Churchyard
He too stood here once, on this very spot,
painting. The same yew trees, the same flint tower.
Tombs leant towards him in the soft summer
as the dead woke in their vaults, unquiet,
hungry for an afternoon such as this,
when jackdaws stalk the grass. Now his relics
lie under glass in the gallery: specs,
brushes, Bible open at Lazarus.
Of the disciples, he's most like Thomas,
wanting to touch the miracle of hands
which have worn death yet stay warm. And here stands
the stone angel he drew, lichened witness
to those crowded scenes of resurrection –
how, hour on hour, he painted love's return.
© Rosie Jackson
Picture 10131666, photograph by Anthony Christie, 1958, image copyright Mary Evans / Anthony Christie Collection
Rosie Jackson has won many awards for her poetry, including first prize in the Stanley Spencer Poetry competition 2017, first prize at Wells 2018, and second prize at Torbay 2018. Her pamphlet What the Ground Holds (Poetry Salzburg, 2014) was followed by her collection The Light Box (Cultured Llama, 2016) and her memoir The Glass Mother (Unthank, 2016). Rosie has taught at the University of East Anglia, UWE, Nottingham Trent, and runs writing courses in Frome, Somerset and Cortijo Romero, Spain. Her poetry has been published in Acumen, Ambit, Frogmore Papers, High Window, Scintilla, Tears in the Fence, other journals and anthologies, set for GCSE, and used for a sculpture by Andrew Whittle in the grounds of a Dorchester hospital. In 2017 she was a Hawthornden fellow. A collection of poems about Stanley Spencer and his first wife Hilda Carline, Two Girls and a Beehive, written with Graham Burchell, will be published by Two Rivers Press in April 2020: 'An impressive and original collection, varied yet unified.' (Anthony Thwaite).  www.rosiejackson.org.uk