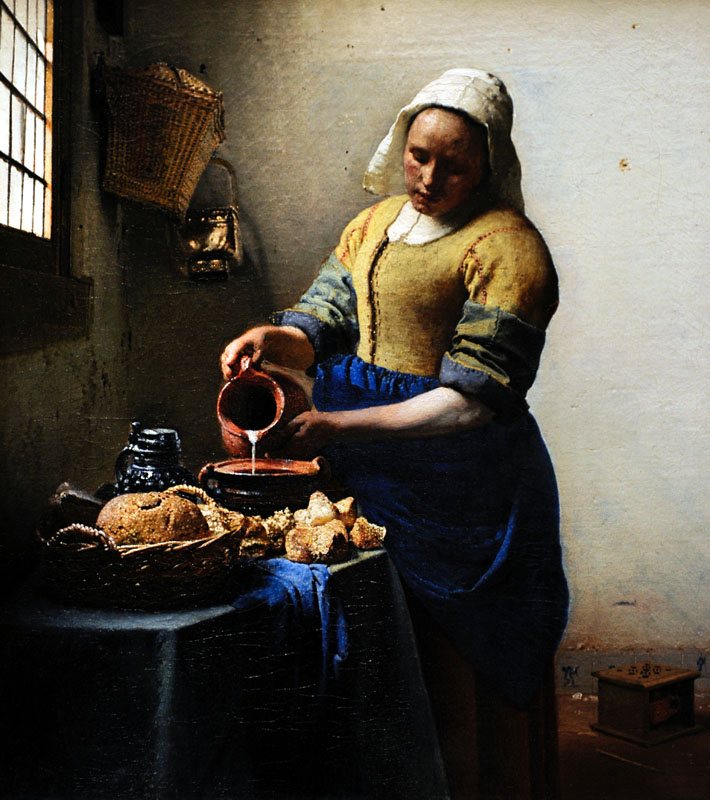 The Milkmaid
(after the painting by Johannes Vermeer)
Concentrating on the milk she pours
from one earthenware vessel to another,
the mustard yellow sleeves of her
rolled-up blouse reveal her sturdy arms,
the beige, purple and maroon
of her garment in flowing folds swoon –
highlighting her sumptuous, robust figure.
The light catches her in a moment of stillness,
her head bent slightly as if in prayer.
Brightness of freshly baked bread
spread invitingly on the table in front of her,
the kitchen utensils, a basket of wicker,
the foot-warmer resting on the floor
in one corner offer hints and guesses – nurture
with passion, a sensual aspect to her character.
Her attention is not lavished on the viewer.
© Shanta Acharya, in Imagine: New and Selected Poems (HarperCollins, India, 2017)
Picture 11029089, reproduction of The Milkmaid, Johannes Vermeer, circa 1660
Shanta Acharya was born and educated in Cuttack, India. She won a scholarship to Oxford, and was among the first batch of women admitted to Worcester College. A recipient of the Violet Vaughan Morgan Fellowship, she was awarded the Doctor of Philosophy for her work on Ralph Waldo Emerson. She was a Visiting Scholar in the Department of English and American Literature and Languages at Harvard University before joining an American investment bank in London. The author of eleven books, her publications range from poetry, literary criticism and fiction to finance. Her latest poetry collection is Imagine: New and Selected Poems (HarperCollins, India, 2017). Her poems, articles and reviews have appeared in major publications including Poetry Review, PN Review, The Spectator, Guardian Poem of the Week, Oxford Today, Agenda, Acumen, Ambit, Envoi, Journal of Postcolonial Writing, Philosophy Now, Stand, Ariel, Asia Literary Review, HarperCollins Book of English Poetry, Fulcrum, Language for a New Century: Contemporary Poetry from the Middle East, Asia & Beyond. Founder of Poetry in the House, Shanta hosted a series of monthly poetry readings at Lauderdale House, Highgate, London, from 1996 to 2015.  www.shantaacharya.com