Warning
: include(topMenuBar.php): failed to open stream: No such file or directory in
/home/domains/maryevans.com/docs/poetryblog.php
on line
78
Warning
: include(): Failed opening 'topMenuBar.php' for inclusion (include_path='.:/usr/share/php') in
/home/domains/maryevans.com/docs/poetryblog.php
on line
78
Warning
: include(topFullWidth.php): failed to open stream: No such file or directory in
/home/domains/maryevans.com/docs/poetryblog.php
on line
79
Warning
: include(): Failed opening 'topFullWidth.php' for inclusion (include_path='.:/usr/share/php') in
/home/domains/maryevans.com/docs/poetryblog.php
on line
79
Warning
: include(poetrySideBar.php): failed to open stream: No such file or directory in
/home/domains/maryevans.com/docs/poetryblog.php
on line
81
Warning
: include(): Failed opening 'poetrySideBar.php' for inclusion (include_path='.:/usr/share/php') in
/home/domains/maryevans.com/docs/poetryblog.php
on line
81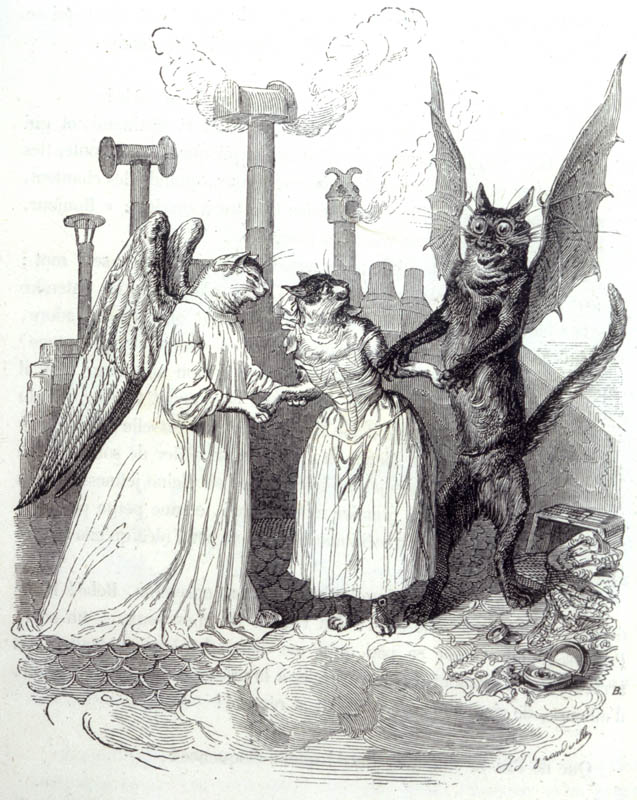 The Cat and the Devil
The cat can fall too
123456though her nine lives
123456123456help her twist
out of harm's way –
watch her twirl
123456through legs and broom sticks
123456123456see her slither
between spark-blown chimney stacks.
The devil has come to cast her
123456as a virgin in taffeta
reclining on a sofa
how will she sheathe
123456her claws123456hide
her teeth?
will she embroider
123456123456song birds' feathers
123456into macabre still-lives
string delicate charms
123456123456from rat vertebrae
123456or needle-point the flesh
of her lovers while they sleep
123456123456so they wake
123456itching from her touch
wondering123456whose brand
123456adorns them?
However she hides
123456her brindled pelt
one night123late123a call
123456will come123456singing
through the iced air
and she'll arch123her back123leap
123456from the casement
leave her silhouette
123456123456against the moon
123456an absence
123456123456in her lover's eye
© Jessica Traynor
Picture  10006946, illustration by Grandville, circa 1840, image copyright Mary Evans
Jessica Traynor's debut poetry collection, Liffey Swim (Dedalus Press, 2014), was named one of the best poetry debuts of the past five years on Bustle.com. She is currently under commission to write an opera with the composer Elaine Agnew for Galway 2020 European Capital of Culture. A thirty-minute choral song cycle, An Island Sings, was commissioned by Poetry Ireland to be performed in the National Concert Hall in March 2019. Prizes include the Ireland Chair of Poetry Bursary, the Hennessy New Irish Writer of the Year Award and the Listowel Poetry Prize. Her second collection, The Quick, was published in 2018. https://jessicatraynor.com