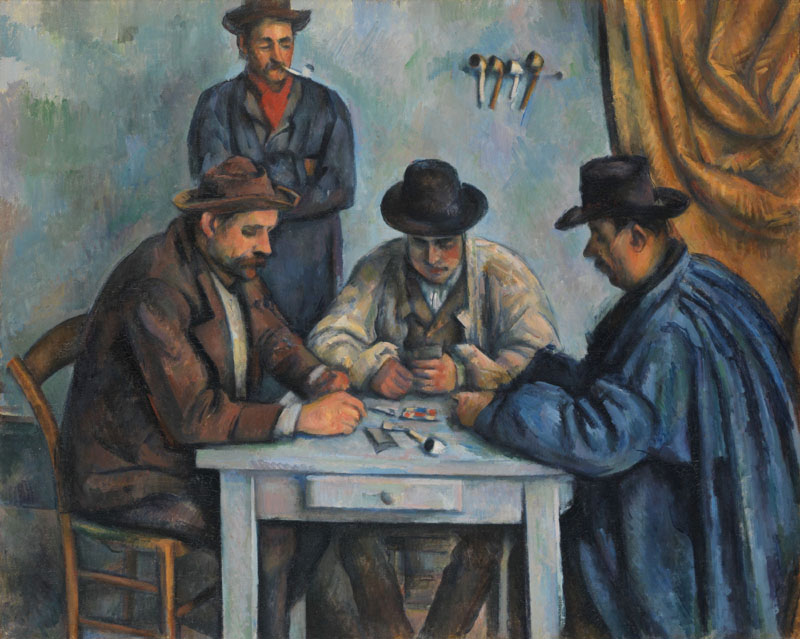 The Watch
At this moment in a park
in Paris, Lisbon or Shanghai,
men and women
dressed in black and grey and brown
are gathering into their heads,
leaning into a game of chess,
their boards balanced
across makeshift tables
made from metal chairs.
With the concentration
of Cézanne's card players
they'll do the best they can:
bend over our destiny,
play against the clock.
Sane focus of a world
that runs rings around them
on sand and cinder tracks;
all-weather vigilantes
reading tea leaves
under the cast-iron awning
where they meet each afternoon.
© Geraldine Mitchell
Picture 11965018, reproduction of The Card Players, by Paul Cézanne, 1890-1892, image copyright Mary Evans / Everett Collection
The Irish poet Geraldine Mitchell has published three collections: World Without Maps (2011), Of Birds and Bones (2014) and, most recently, Mountains for Breakfast (2017). She is published by Arlen House. Geraldine won the Patrick Kavanagh Poetry Award in 2008 and was overall winner in the inaugural Trócaire-Poetry Ireland poetry competition in 2012. Widely published in journals in Ireland and the UK, she has also been broadcast on RTE radio and appeared in The Irish Times and The Examiner. Having worked for many years in France and Spain, she now lives on the Co. Mayo coast.  www.geraldinemitchell.net