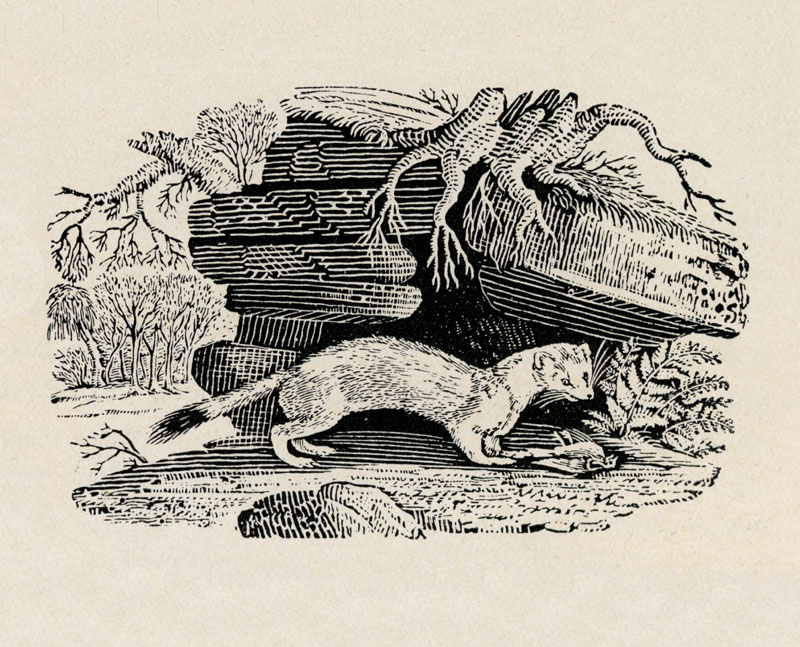 Stoat With Dead Bird
after an engraving by Thomas Bewick
The stoat needles through bracken,
the thrush slams a snail on a stone.
There is no space to intervene
and I don't want to. I love the thrush,
the stone, the snail, and I love the stoat,
her spring of muscle, her pointed jaw –
a complete story, without heroes.
I want to be one of them though I know
bitter fear and hunger would pall.
My eyes sting from pills with side-effects,
fennel salads; I'm worn out making tea
and readying towels. I'm the thrush,
finally released – or I'm the stoat,
mouth full of flight and copper.
© Rosamund Taylor
Picture 12480749, engraving by Thomas Bewick, circa 1790s, image copyright Mary Evans / Peter & Dawn Cope Collection
Rosamund Taylor won the Mairtin Crawford Award for poetry at the Belfast Book Festival in 2017, and has been nominated for a Forward Prize for best single poem. Her work has recently appeared in Agenda, Banshee, Magma, Poetry Ireland Review and on LambdaLiterary.Org.