Warning
: include(topMenuBar.php): failed to open stream: No such file or directory in
/home/domains/maryevans.com/docs/poetryblog.php
on line
78
Warning
: include(): Failed opening 'topMenuBar.php' for inclusion (include_path='.:/usr/share/php') in
/home/domains/maryevans.com/docs/poetryblog.php
on line
78
Warning
: include(topFullWidth.php): failed to open stream: No such file or directory in
/home/domains/maryevans.com/docs/poetryblog.php
on line
79
Warning
: include(): Failed opening 'topFullWidth.php' for inclusion (include_path='.:/usr/share/php') in
/home/domains/maryevans.com/docs/poetryblog.php
on line
79
Warning
: include(poetrySideBar.php): failed to open stream: No such file or directory in
/home/domains/maryevans.com/docs/poetryblog.php
on line
81
Warning
: include(): Failed opening 'poetrySideBar.php' for inclusion (include_path='.:/usr/share/php') in
/home/domains/maryevans.com/docs/poetryblog.php
on line
81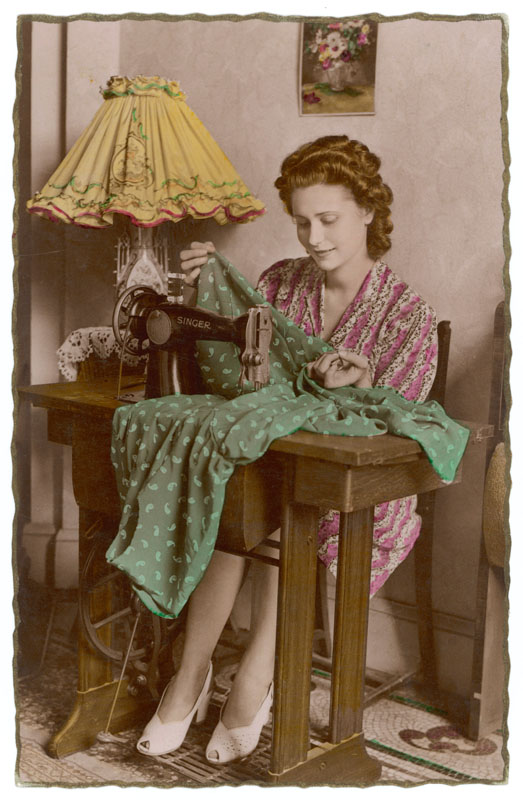 Singer
Along Rue Lacépède, a window on shoes
and leather belts. Inside the door,
the rich odour.
A man, at a counter, lays aside his work,
displays shoes he makes himself
for dancing, classical jazz.
'Pelure' is the word that he suggests,
offering to fit a waist. I think of live calves.
Vellum. The Book of Kells. My father
choosing a bellyband for a horse
at Carews, William Street,
a new 'winkers' for the mare.
There, tools are clipped on a wall.
Here again, the gilt-embossed S
on a black sewing machine,
its wrought-iron treadle spells
S-I-N-G-E-R. Monsieur praises
the invention, shows the needle's eye.
There's my mother at the table
hand winding the wheel,
her mouth full of pins,
rat-tat-tat of the silvery metal foot
between mid-finger and index.
The needle drills a long seam
to sew a new dress, a summer shift,
a dancing skirt in green poplin,
the bobbin spinning. Fabric
cascades onto the floor,
a waterfall spilling from a bolt
across the table. All business,
new words drop from her lips,
'muslin', 'chiffon', 'bias',
'tension.'
© Catherine Phil MacCarthy, from Daughters of the House, published here by kind permission of Dedalus Press, Dublin, 2019
Picture 10101474, photograph on a French postcard, circa 1940s, image copyright Mary Evans
Catherine Phil MacCarthy was born and grew up in Co. Limerick and studied at University College Cork, Trinity College Dublin, and Central School of Speech and Drama, London. She taught at Waterford Institute of Technology (WIT) and at The Drama Centre, University College Dublin, before turning full-time to writing in 1999. She lives in Dublin. Her collections include The Invisible Threshold (2012), Suntrap (2007), the blue globe (1998), This Hour of the Tide (1994), and One Room an Everywhere, a novel, (2003). She is a former editor of Poetry Ireland Review (1998/99). She received the eighteenth Lawrence O'Shaughnessy Award for Irish Poetry from the University of St Thomas Center for Irish Studies at St Paul, Minnesota, in April 2014. Other awards include an artist's residency at Centre Culturel Irlandais in Paris during the Spring of 2013; the Dromineer Literary Festival Poetry Prize in 2012, judged by Fiona Sampson and The Fish International Poetry Prize in 2010, judged by Matthew Sweeney. She worked as Writer in Residence for the City of Dublin (1994), and at the Department of Anglo-Irish Literature, University College, Dublin (2002) and she tutored in Poetry and Creative Writing at Irish Writers Centre; Institute of Art, Design & Technology, Dun Laoghaire; and at St Patrick's College, Dromcondra. Readings include Poetry Festivals in Ireland and abroad and also at Irish Studies Centres: Glucksman Ireland House, NYU; Villanova University; Boston College; University of Massachusetts at Boston; and Concordia University Montreal.  www.catherinephilmaccarthy.com