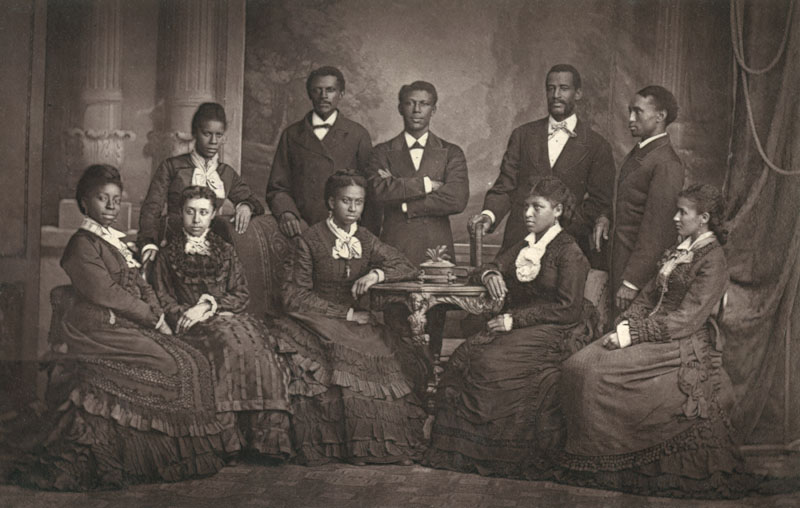 97 Valley Drive
i.m. Thomas Rutling, 1854-1915
(back row in photograph, first on right)
Freed, he joined the Jubilee Singers,
sang spirituals to Queen Victoria.
I read the plaque as we stand outside
the stone terrace by Valley Gardens.
Mum tucks her arm through mine,
always on the right after her little stroke,
and we set off to the cemetery to find
his tombstone or, I nod, a spot for her.
Thomas's first memory, I tell Mum,
blood from a horse whip lashing him
and his mother as she was being sold on
without her children. The afternoon's late,
silver birches step forward in the sun.
We discuss the secret codes in gospels
like 'Steal Away to Jesus' when Mum
falls silent until her cracked voice
picks out 'Amazing Grace'—how sweet
the sound, that saved a wretch like me—
and I think I've never heard her sing
and she sings it word-perfect, beautifully.
© Stuart Pickford
Picture 10811162, unattributed photograph, 1870s, image copyright Mary Evans / Pharcide
Stuart Pickford lives in Harrogate, where Thomas Rutling lived, and teaches in a local comprehensive school. He is married with three children. His second collection, Swimming with Jellyfish, was published by Smith|Doorstop in 2016.