Warning
: include(topMenuBar.php): failed to open stream: No such file or directory in
/home/domains/maryevans.com/docs/poetryblog.php
on line
78
Warning
: include(): Failed opening 'topMenuBar.php' for inclusion (include_path='.:/usr/share/php') in
/home/domains/maryevans.com/docs/poetryblog.php
on line
78
Warning
: include(topFullWidth.php): failed to open stream: No such file or directory in
/home/domains/maryevans.com/docs/poetryblog.php
on line
79
Warning
: include(): Failed opening 'topFullWidth.php' for inclusion (include_path='.:/usr/share/php') in
/home/domains/maryevans.com/docs/poetryblog.php
on line
79
Warning
: include(poetrySideBar.php): failed to open stream: No such file or directory in
/home/domains/maryevans.com/docs/poetryblog.php
on line
81
Warning
: include(): Failed opening 'poetrySideBar.php' for inclusion (include_path='.:/usr/share/php') in
/home/domains/maryevans.com/docs/poetryblog.php
on line
81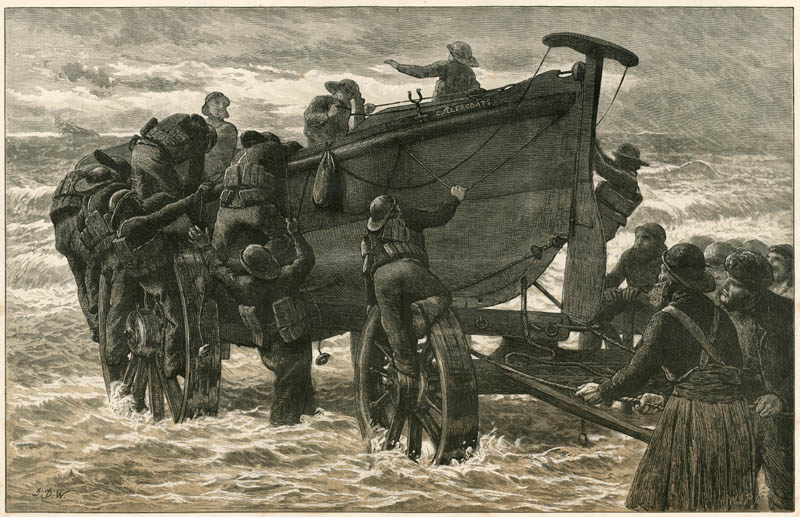 The Sheltered World
We navigate the narrow neck
of darkness to find them in the gut
of the night – fouled, stricken, wrecked.
We return them to the sheltered world,
and in returning to the sheltered world
we sup at the Still, our land-legs hollow
but restless to put to sea restored.
Cradling a carafe of light, an ancient seafarer
crosses the bar to take up station
beside us. He declares he's glad
we're here, glad we fetched them back
alive, says 'twas different in the auld times.
In the auld times, he says, 'twas different –
on nights such as this they dragged
a grapnel along the grey water's bed,
and often as not snagged the afterworld.
Along the grey water's bed their grapnel
rent unanswered prayers, unused flares,
a mother's dream as they hooked her child
and brought him, punctured, to the surface.
© Eleanor Hooker
Picture 10119171, engraving by J D Watson, Illustrated London News, 1872, image copyright Mary Evans / Illustrated London News
Eleanor Hooker's third poetry collection is due for publication in 2020, and she is currently working on a novel. Her other poetry collections are A Tug of Blue (2016) and The Shadow Owner's Companion (2012), both with Dedalus Press. She has new poems forthcoming in: POETRY magazine, Winter Papers, Poetry Ireland Review, One, Banshee and the Poetry Society Newsletter. Her poems appear in literary journals internationally, including: POETRY magazine, Southword, Poetry Ireland Review, PN Review, The Stinging Fly, Agenda, The Irish Times and Irish Examiner. Eleanor is the recipient of 2015 Bare Fiction Prize (UK) for her Flash Fiction 'The Lesson'. In 2011 she was joint Second Prize winner (with Madeleine D'Arcy) of the William Trevor/Elizabeth Bowen International Short Story Competition and winner of the Frank X Buckley Flash Fiction competition at the Irish Writers' Centre. Her fiction has been published in The Woven Tale Press, Banshee and The Irish Times. Eleanor holds an MPhil in Creative Writing from Trinity College, Dublin, an MA (Hons) in Cultural History from the University of Northumbria, and a BA (Hons) from the Open University, UK.  She is a Fellow of the Linnean Society of London (FLS). She is a helm for Lough Derg RNLI Lifeboat.  www.eleanorhooker.com