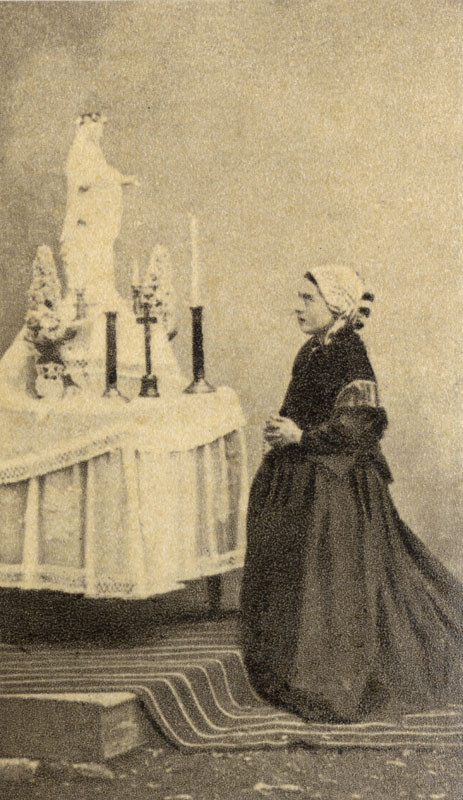 Time is a candle burning down, rural France, 1858
An onlooker said of Saint Bernadette that her body was a waxy surface
ready to take impressions. I agree she was white as a candle.
The whitest candle was made from spermaceti wax, mined from
inside a sperm whale's head. Translucent as the tubercular skin
of Bernadette. Tallow, which stank, made from beef or mutton fat,
was the candle of hovels; resin lit the almost-cave of Bernadette's home.
No-one compared the saint to beeswax, used in church, scentful but yellow.
Children like Bernadette were so meagre they nibbled church candles
on the sly, to fill their bellies. You can catch someone's soul
in a candle, then snuff it out. And if you wish to lift a curse, stick pins
in a candle. Peasants held back their kitchen fat (bone, oil, skin)
for the chandler who'd journey door to door, form it into candles.
A candle encourages magical thinking. The incandescent lightbulb
will not be invented until 1879, the year Bernadette dies which is why
I'd never compare her to that. They'll coat her in wax, preserve her in time.
Flick a switch: she may not exist at all when our eyes fill with electric light.
© Anna Kisby, inspired by Lourdes by Ruth Harris, and written as part of the Bristol University project Creative Histories of Witchcraft 1790-1940 (a collaboration between a historian, a playwright and a poet)
Picture 10180054, unattributed photograph, 1864, image copyright Mary Evans
Anna Kisby is a Devon-based poet, archivist and author of the pamphlet All the Naked Daughters (Against the Grain Press, 2017). She won the Binsted Prize 2019, the BBC Proms Poetry Prize 2016 and was commended in the Faber New Poets Scheme. She is currently a Research Associate in Creative Writing at Bristol University on the project Creative Histories of Witchcraft 1790-1940.