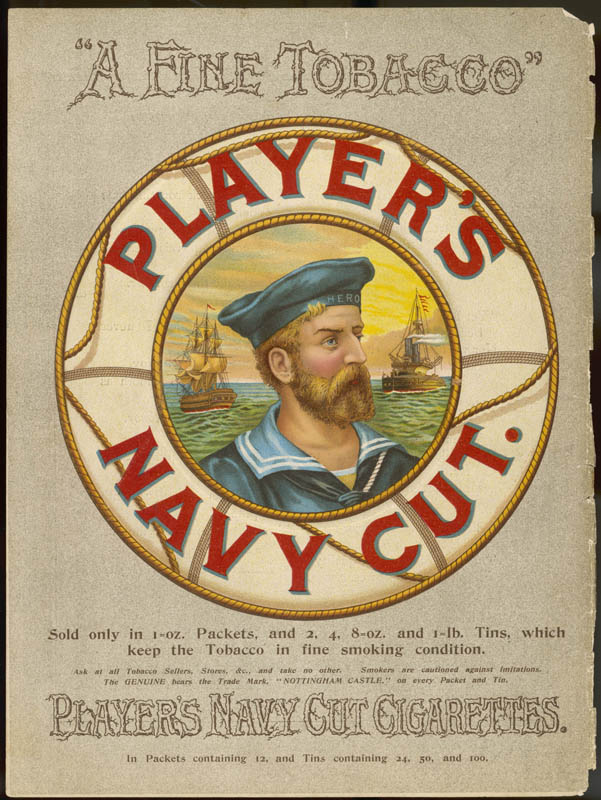 Hero
The sailor on the box of Navy Cut
peered from my grandfather's top pocket,
our lookout on the bog road.
One hand in his, in the other bog cotton,
white bearded heads dancing in the wind,
as I sprang from hummock to hummock,
unaware of brackish water just below.
When I lost a boot to the sucking bog
he swept me up to shoulder-ride me home.
At night, I'd watch him dozing –
hand resting on the chair arm, as
grey ash curled to a worm cast.
I watched the pulse tick at his temple,
heard the whistle of his breathing,
wished this breezy day might never end.
© Amanda Bell, first published in Skylight 47, and then in First the Feathers, Doire Press, 2017
Picture 10092215, tobacco advertisement, 1895, image copyright Mary Evans
Amanda Bell's publications include First the Feathers (Doire Press, 2017), which was shortlisted for the Strong Shine Award for best first collection; Undercurrents (Alba, 2016), which won a HSA Kanterman Merit Book Award and was shortlisted for a Touchstone Distinguished Books Award; The Lost Library Book (Onslaught, 2017); and the loneliness of the sasquatch, from the Irish by Gabriel Rosenstock (Alba, 2018). Her poem 'Points' was on a shortlist of four for the Irish Poem of the Year 2017. She works as a freelance editor, and is assistant editor of The Haibun Journal.