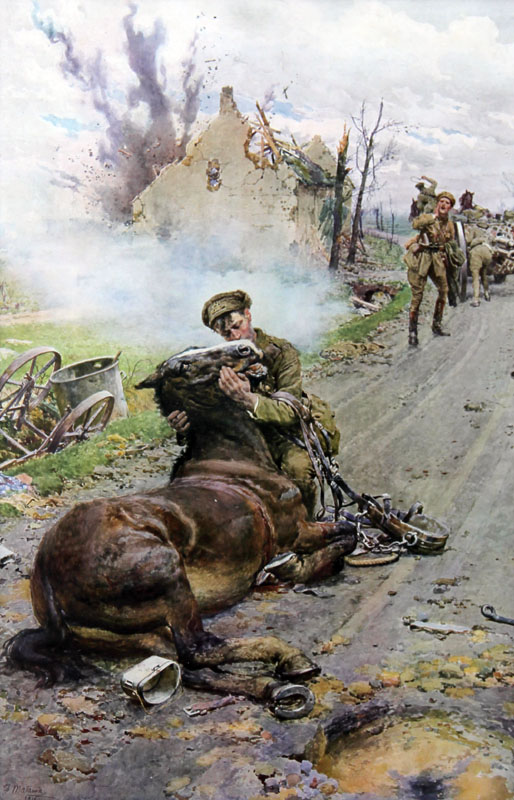 A Horse's Word
after 'The Soldier's Kiss' by Henry Chappell
Only a man! He is more. Shift the gear,
slip the weight from his shoulders, his jaw
stiffening. Saddle beside him, let the smoke clear
as hoofs and bullets thunder. Pause.
123456
Prone to greener fields, lie
with quivering lips. Do not fail;
a horse's truth is revealed in faithful eyes.
United, gallop strong through the veils.
123456
Onward, let him grasp the rein, speed
– heedless of your mutual pains – to safety. The shells
may soften, though the flesh may bleed.
Keep walking, though you both may fall.
123456
Only a man! No, this is companionship. Kneel
close for comfort. Let him sigh
in human airs. Be his steed, his steel
when he kisses friends goodbye.
123456
At night, nudge his head to the stars,
show him how the universe unfolds.
We bear so much – breed kindness and resilience, far
beyond the king's shilling or war-tethered gold.
123456
© Russell Jones
Picture 10951834, reproduction of a painting by Fortunino Matania, 1916, image copyright Mary Evans
Russell Jones is an Edinburgh-based writer and editor. He was the UK's first Pet Poet Laureate, has published five collections of poetry and is deputy editor of Shoreline of Infinity, a science fiction magazine. He is the editor of Where Rockets Burn Through: Contemporary Science Fiction Poems from the UK (Penned in the Margins), co-editor of Umbrellas of Edinburgh: Poetry and Prose Inspired by Scotland's Capital City (Stirling Publishing) and Multiverse: an international anthology of science fiction poetry (Shoreline of Infinity). Russell writes novels, short stories for children, and has a PhD in Creative Writing from The University of Edinburgh. He enjoys White Russians, Twiglets and karaoke.