Warning
: include(topMenuBar.php): failed to open stream: No such file or directory in
/home/domains/maryevans.com/docs/poetryblog.php
on line
78
Warning
: include(): Failed opening 'topMenuBar.php' for inclusion (include_path='.:/usr/share/php') in
/home/domains/maryevans.com/docs/poetryblog.php
on line
78
Warning
: include(topFullWidth.php): failed to open stream: No such file or directory in
/home/domains/maryevans.com/docs/poetryblog.php
on line
79
Warning
: include(): Failed opening 'topFullWidth.php' for inclusion (include_path='.:/usr/share/php') in
/home/domains/maryevans.com/docs/poetryblog.php
on line
79
Warning
: include(poetrySideBar.php): failed to open stream: No such file or directory in
/home/domains/maryevans.com/docs/poetryblog.php
on line
81
Warning
: include(): Failed opening 'poetrySideBar.php' for inclusion (include_path='.:/usr/share/php') in
/home/domains/maryevans.com/docs/poetryblog.php
on line
81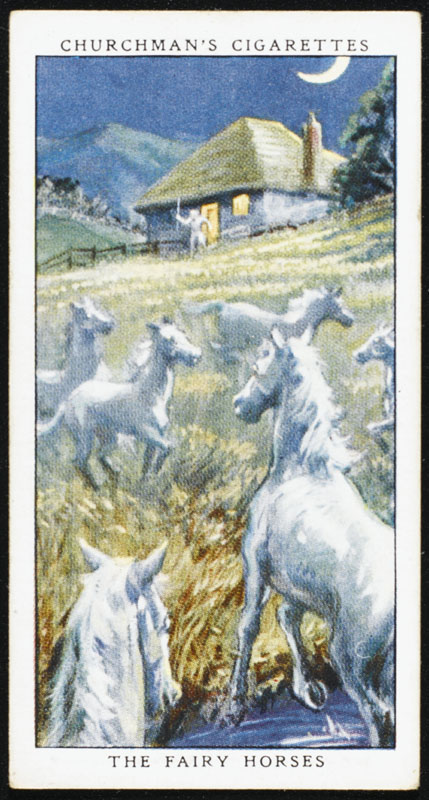 Counting on horses
Fen-wide the horses spread horizon.
Tuft buddies, hillock scrumping hooves.
Their moves are the same moves for centuries,
called by fresh grasses, drinking waters.
Who can draw the bones of horses?
They side-step charcoal –
a line that slides.
White space invades their curves
and craves their graces.
Negative is positive when capturing horses.
Their appearance is a leaving
like ghosts that visit before the day breaks.
Chimers may know the rhythm of the canter,
the grapple of gallop,
how their shoes echo iron down the smithy's arm
and into his son,
how haunches work for a feeding
not for a beating,
how the stable is a hearth of warmth.
Then there are fly grazers –
left on the slip side of new motorways.
They hear the silence between rush hour pushes
their manes choking our settled drains,
their tails hold that pinch of horse-fly –
the ouch and then the dash
into sudden horse-coloured day.
© Siobhan Campbell
Picture 10110775, illustration on a cigarette card, 20th century, image copyright Mary Evans
Siobhan Campbell received the Oxford Brookes International Poetry Prize in 2016. Her fourth collection of poetry is Heat Signature (Seren, 2017, 'an outstanding ear for the music of language', Robert Crawford). Earlier collections were Cross-Talk, The Cold that Burns and The Permanent Wave. Siobhan holds awards in the National and Troubadour competitions and is the winner of the Templar poetry prize. Her work is widely anthologised, for example in New British and Irish Poets (Bloodaxe) and Womens' Work: twentieth century poets writing in English. Co-editor with Nessa O'Mahony of  Eavan Boland: Inside History (Arlen House), Siobhan is on faculty at The Open University UK and her critical work appears in The Portable Poetry Workshop (Palgrave) and Making Integral: the work of Richard Murphy (CUP). Her poems have appeared in Magma, Poetry, Agenda, Poetry Ireland Review and Verse. Siobhan is currently developing a sequence involving cows, but horses keep coming to visit the work!  www.siobhancampbell.com