Warning
: include(topMenuBar.php): failed to open stream: No such file or directory in
/home/domains/maryevans.com/docs/poetryblog.php
on line
78
Warning
: include(): Failed opening 'topMenuBar.php' for inclusion (include_path='.:/usr/share/php') in
/home/domains/maryevans.com/docs/poetryblog.php
on line
78
Warning
: include(topFullWidth.php): failed to open stream: No such file or directory in
/home/domains/maryevans.com/docs/poetryblog.php
on line
79
Warning
: include(): Failed opening 'topFullWidth.php' for inclusion (include_path='.:/usr/share/php') in
/home/domains/maryevans.com/docs/poetryblog.php
on line
79
Warning
: include(poetrySideBar.php): failed to open stream: No such file or directory in
/home/domains/maryevans.com/docs/poetryblog.php
on line
81
Warning
: include(): Failed opening 'poetrySideBar.php' for inclusion (include_path='.:/usr/share/php') in
/home/domains/maryevans.com/docs/poetryblog.php
on line
81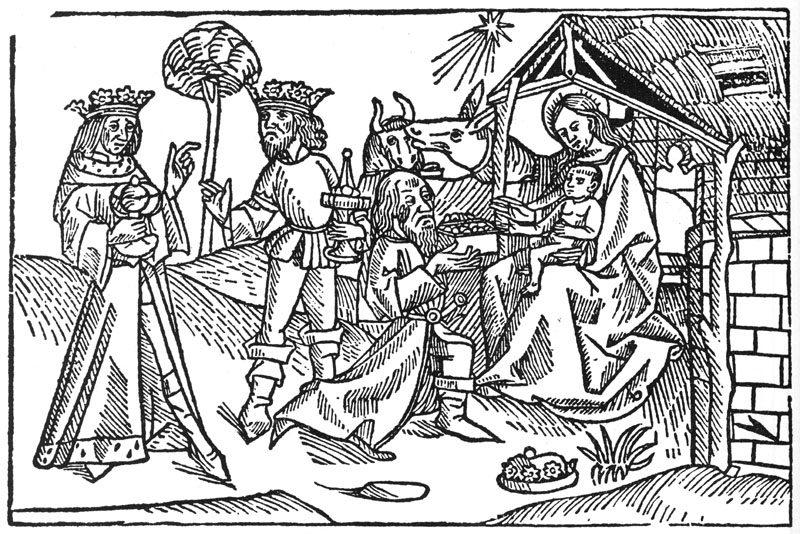 The Gifts of the Magi
Mary was all for burying the gold, saving it
for the rainy day she knew would come.
He said, why not live a little, it's not everyday
you celebrate the arrival of your first born?
Why not let your hair down for once?
They wrapped the frankincense in spare strips
of swaddling and some of the cleaner straw
and managed to take it all the way home
without incident. Him full of the spirit
and forgetting 'his troubles' is what did for it.
The myrrh was different, they agreed it should
be kept safe, though touch wood, they'd never
need it. For a time it sat on the mantelpiece
but it was put away when himself could reach it.
Mary never found out he sold it on the quiet.
© Matt Barnard
Picture 10147600, woodcut in Jacobus de Voragine, Legenda Aurea (Caxton, 1483), image copyright Mary Evans
Matt Barnard is a poet and writer. His collection, Anatomy of a Whale, was published in 2018 by The Onslaught Press, and he has won the Poetry Society's Hamish Canham Prize and the Ink Tears national short story competition. Matt edits British Life in Poetry, which promotes poetry in the UK by posting a weekly poem by a contemporary author writing in English. He also edited the anthology Poems for the NHS (Onslaught Press, 2018). His website is at www.mattbarnardwriter.com