Warning
: include(topMenuBar.php): failed to open stream: No such file or directory in
/home/domains/maryevans.com/docs/poetryblog.php
on line
78
Warning
: include(): Failed opening 'topMenuBar.php' for inclusion (include_path='.:/usr/share/php') in
/home/domains/maryevans.com/docs/poetryblog.php
on line
78
Warning
: include(topFullWidth.php): failed to open stream: No such file or directory in
/home/domains/maryevans.com/docs/poetryblog.php
on line
79
Warning
: include(): Failed opening 'topFullWidth.php' for inclusion (include_path='.:/usr/share/php') in
/home/domains/maryevans.com/docs/poetryblog.php
on line
79
Warning
: include(poetrySideBar.php): failed to open stream: No such file or directory in
/home/domains/maryevans.com/docs/poetryblog.php
on line
81
Warning
: include(): Failed opening 'poetrySideBar.php' for inclusion (include_path='.:/usr/share/php') in
/home/domains/maryevans.com/docs/poetryblog.php
on line
81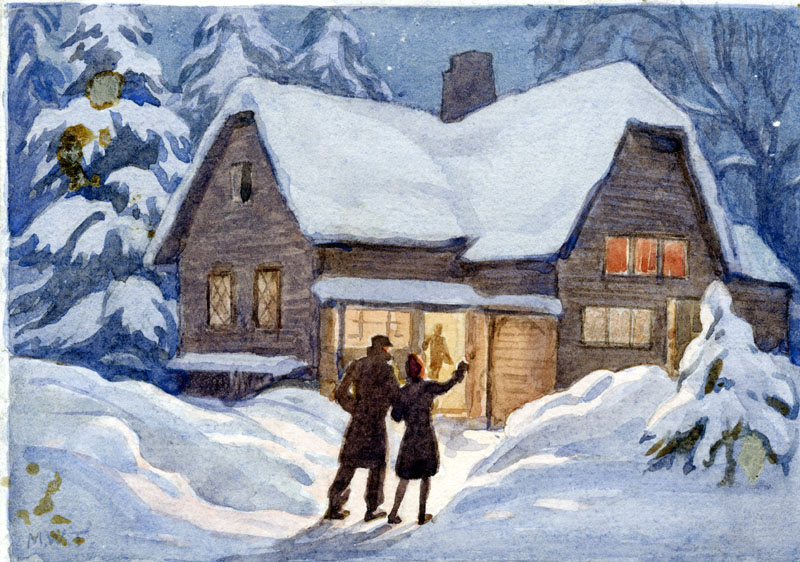 Snow day
Waking to the wonder
in my brother's voice —
his shrill delight
shaking him for once
from his teenage retreat —
I arose to a new world,
without colour:
all crystal-white,
magically softened and
glowing at the edges
drawing us out
with its silent allure
to explore
familiar places
rendered strange.
Past the edge of town,
undisturbed by a soul,
caught by the urge
to jump a wall and run
full-tilt into its empty embrace:
whump! I had sunk,
softly held
in all that whiteness;
cushioned from the world,
I could be there still.
We dragged home
without a word,
mirth stolen by the cold;
the sudden warmth at the door,
my mother's voice
reluctantly returning me
to all the colour and clamour
of humanity —
and a pang
at the loss of all that
peace.
© Anne Casey
Picture 10505753, reproduction of a painting by Margaret Tarrant, circa 1920s, image copyright Mary Evans / Medici
Originally from the west of Ireland and living in Sydney, Anne Casey is an award-winning poet and author of two poetry collections: where the lost things go (Salmon Poetry, 2017, 2nd ed 2018) and out of emptied cups (Salmon Poetry, 2019). Anne has worked for 30 years as a journalist, magazine editor, media communications director and legal author. Her writing and poetry rank in the leading national daily newspaper, The Irish Times' 'Most-Read' and are widely published internationally: The Irish Times, Entropy, apt, Murmur House, Quiddity, Barzakh (State University of New York), DASH (California State University), FourXFour (Poetry Northern Ireland), Cordite, The Canberra Times, Verity La and Plumwood Mountain among many others. Anne's poetry has won/shortlisted for awards in Ireland, Northern Ireland, the USA, the UK, Canada, Hong Kong and Australia. She is Senior Poetry Editor of Other Terrain Journal and Backstory Journal (Swinburne University, Melbourne) and sits on numerous literary advisory boards.