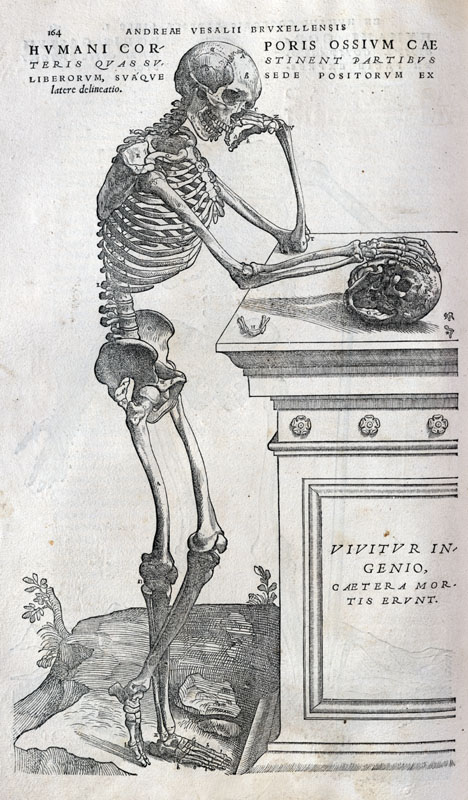 A Skeletal Conversation
Ah, delicate skeleton, what's in your mind
as you ponder upon a similar skull
rolling below your elegant hand?
Are you thinking of Yorick, or is your skull full
of latinate thoughts, so you need to support
their capital heaviness? Help me, old friend
share your knowledge – I want to be taught
how to empty my head, and how not to spend
centuries questioning another hollow skull.
© Richard Westcott
Picture 10698205, medical engraving, De humani corporis fabrica, 1543, image copyright Mary Evans / King's College
Richard Westcott (once upon a time a doctor) has had poems pop up in all sorts of places, won a prize here and there, and been listed, commended and highly commended in various competitions (including the Hippocrates, York Mix, Camden Lumen, Plough, and Poetry on the Lake).  He won the Poetry Society's annual Stanza Competition in 2018, judged by Penelope Shuttle, with his poem 'A Traditional Cure'.  A pamphlet, There they live much longer, was published by Indigo Dreams in March 2018, and his blog is at www.richardwestcottspoetry.com