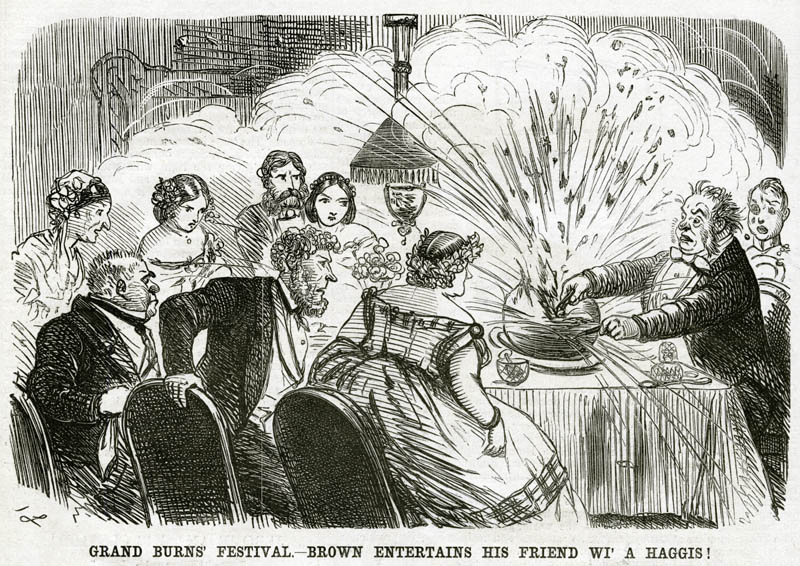 Further Address to a Haggis
O haggis, O haggis, we come here to skin ye
tonight at the table to find out what's in ye.
If it's anus or gizzard
of lamprey or lizard,
then we'll eat the taties but ye, we will bin ye.
O haggis, O haggis, I don't wish to insult ye
but ye dinna seem meat and ye dinna seem poultry;
are ye some sort of fish
that squats on this dish
or did some Frankenstein chef nut-and-bolt ye?
O haggis, O haggis, what devil has brought ye?
Was it Ramsay or Delia or Jamie who's wrought ye?
Or should our glasses be raised
and the hunters be praised
who at risk of their lives in the highlands've caught ye?
O haggis, O haggis, were ye sweet, were ye sour, ye
would frighten the kilt off a full-blooded Maori;
but let's not delay more,
let's take out our claymore-
s, and in the name of R Burns  —  we'll devour ye.
© Derek Sellen
Picture 10056930, cartoon by John Leech in Punch, 5 February 1859, image copyright Mary Evans
Derek Sellen's work has been published widely and received awards over many years. He won the O Bheal Poetry Competition in 2015, Hungry Hill Poets Meet Politics in 2014, the Poetry Pulse Annual Competition in 2017 and was Canterbury Festival Poet of the Year 2018. Other recent successes include an award at Poetry on the Lake, and being shortlisted in various poetry competitions, most recently Penfro, Barnet Arts and Sonnet or Not. A collection, The Other Guernica, was published in 2018. He lives in Canterbury, Kent, and is an active member of SaveAs Writers.