Warning
: include(topMenuBar.php): failed to open stream: No such file or directory in
/home/domains/maryevans.com/docs/poetryblog.php
on line
78
Warning
: include(): Failed opening 'topMenuBar.php' for inclusion (include_path='.:/usr/share/php') in
/home/domains/maryevans.com/docs/poetryblog.php
on line
78
Warning
: include(topFullWidth.php): failed to open stream: No such file or directory in
/home/domains/maryevans.com/docs/poetryblog.php
on line
79
Warning
: include(): Failed opening 'topFullWidth.php' for inclusion (include_path='.:/usr/share/php') in
/home/domains/maryevans.com/docs/poetryblog.php
on line
79
Warning
: include(poetrySideBar.php): failed to open stream: No such file or directory in
/home/domains/maryevans.com/docs/poetryblog.php
on line
81
Warning
: include(): Failed opening 'poetrySideBar.php' for inclusion (include_path='.:/usr/share/php') in
/home/domains/maryevans.com/docs/poetryblog.php
on line
81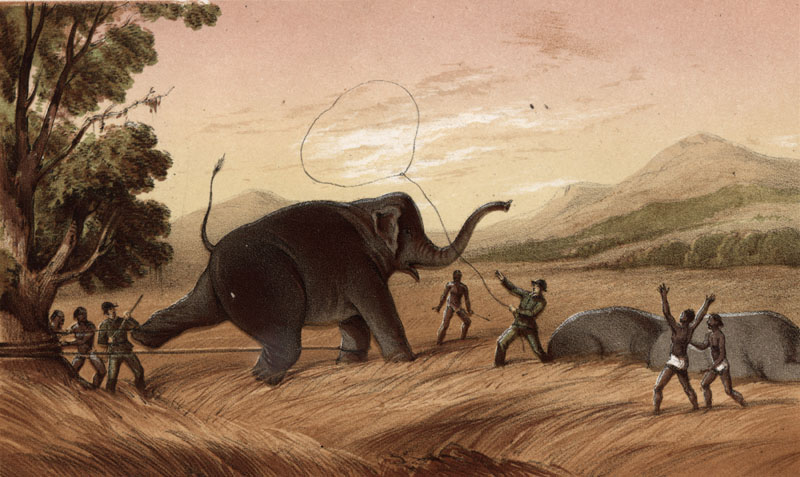 The laughter of slaughter
'I took a shot-gun and strolled along the banks of the lake. The snipe were innumerable, and I killed them till my head ached with the constant recoil of the gun…' (The Rifle and the Hound, Sir Samuel Baker, 1853 – he killed more than 3000 elephants in Sri Lanka during the 1850s)
He called elephants rogues,
said the Lankan elephants
with their pale speckled faces were disgusting.
He preferred to shoot them
from behind trees, not in open ground,
but up in the mountains
elephants fed on grasslands.
No trees.
Different tactics required.
He chased them on horseback,
considered it only sportsmanlike
to stand in the way of danger – just a bit –
so he'd shoot females in the forehead
as they turned to charge him
in defence of their young,
leaving their poonchies alone to starve
if they got away.
He lived for the frisson of kill,
watching the creature buckle and drop,
admiring the accuracy of his bullet,
the relief when the Ceylonese gun-bearer
placed a newly loaded rifle in his grip.
Retracing his route he rejoiced to note
whole herds rotting in his footsteps.
© Rebecca Gethin
Picture 10546835, illustration by Samuel White Baker, 1854, image copyright Mary Evans / King's College
Rebecca Gethin has written five poetry publications and has been a Hawthornden Fellow and a Poetry School tutor. Messages  was a winner in the first Coast to Coast to Coast pamphlet competition. Vanishings from Palewell Press and a chapbook called Fathom from Marble are forthcoming in 2020. She edited A Poetry of Elephants, an anthology of poems to raise money for DSWT, an elephant orphanage in Kenya which was shortlisted for a Saboteur Award.