Warning
: include(topMenuBar.php): failed to open stream: No such file or directory in
/home/domains/maryevans.com/docs/poetryblog.php
on line
78
Warning
: include(): Failed opening 'topMenuBar.php' for inclusion (include_path='.:/usr/share/php') in
/home/domains/maryevans.com/docs/poetryblog.php
on line
78
Warning
: include(topFullWidth.php): failed to open stream: No such file or directory in
/home/domains/maryevans.com/docs/poetryblog.php
on line
79
Warning
: include(): Failed opening 'topFullWidth.php' for inclusion (include_path='.:/usr/share/php') in
/home/domains/maryevans.com/docs/poetryblog.php
on line
79
Warning
: include(poetrySideBar.php): failed to open stream: No such file or directory in
/home/domains/maryevans.com/docs/poetryblog.php
on line
81
Warning
: include(): Failed opening 'poetrySideBar.php' for inclusion (include_path='.:/usr/share/php') in
/home/domains/maryevans.com/docs/poetryblog.php
on line
81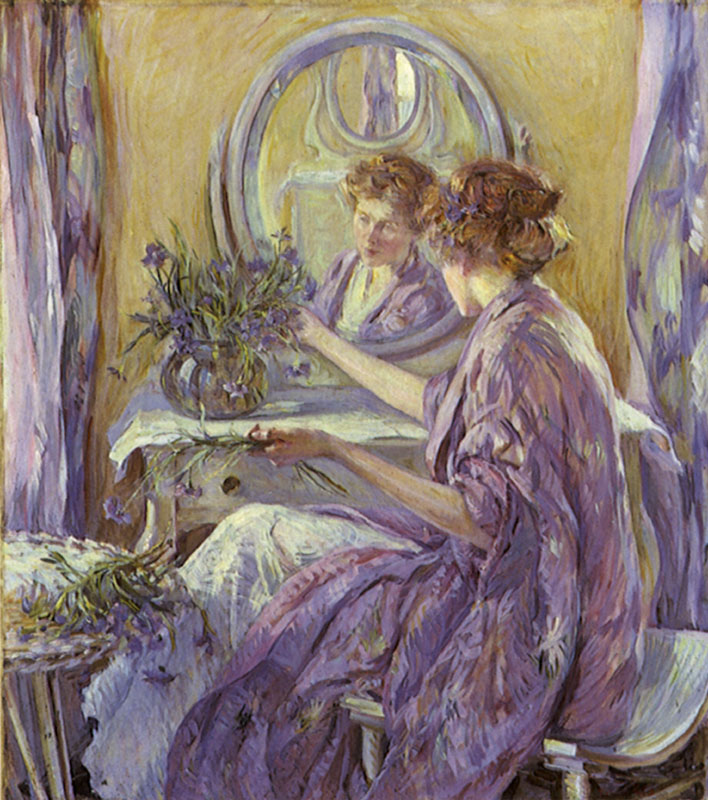 Reflected
Early morning, I open my face –
a passing glance in the mirror –
half open eyes, dishevelled hair
seeking quiet with the dawn.
The evening is different – the face
that stares back
is yours – I am you, reaching out
with the same hands,
that bright toothiness,
blue eyes set off by auburn hair.
I touch your perfect skin
feel your fingers trace my cheek.
Your frown mirrors mine,
eyebrows raised in surprise.
Your face sleeps in my mirror,
etched on glass – untouched by time.
© Valerie Morton
Picture 12943127, painting by Robert Reid, 1910, image copyright Mary Evans / Pictures Now Collection
Valerie Morton is the author of two poetry collections – Mango Tree (2013) and Handprints (2015), both published by Indigo Dreams Publishing, and her poems have appeared in a variety of magazines and anthologies. She is the publisher of Elephant (A Poetry of Elephants) edited by Rebecca Gethin) and also the pamphlet Still Born (2019) which raised money for Sands, the neonatal death society. She has taught Creative Writing at a mental health charity as well as running workshops for volunteers at a Hertfordshire Pinetum, publishing two pamphlets of their work. She is a member of Ver Poets.