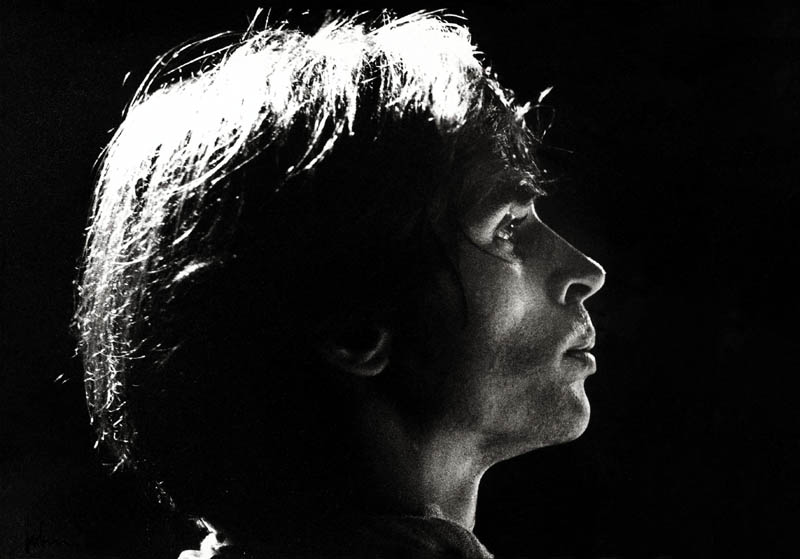 Lilacs from the Field of Mars
Bringing armfuls of lilacs from the Field of Mars
blushing girls hide them under cotton skirts,
stiffening petticoats like the dancers' horsehair net
bought by the shimmering bolt they have seen carried
to the costumier's in the neighbouring street. Once in place
they must brave the babushkas who sit in the dusky corridors
of the old theatre knitting, darning the dancer's shoes
holding the block in the satin where blood has soaked into cloth.
The hidden flowers rustle as they walk and when inside
are pulled out in a wash of Spring scent to be handed
carefully over the balcony and down to the blind box
where they will wait until the last beat of his pas-de-deux
and then fall in a lilac shower – flowers warmed
by the thighs of girls as offerings for the young god.
© Maureen Boyle
Picture 10240992, photograph by Franz Hubmann, 1964,  image copyright Mary Evans / Imagno
Maureen Boyle studied English and History at Trinity College, Dublin, and in 2005 was awarded the Master's in Creative Writing at Queen's University Belfast. She has won various awards including the Ireland Chair of Poetry Prize and the Strokestown International Poetry Prize, both in 2007, and in 2013 she won the Fish Short Memoir Prize.  She has received support from the Arts Council of Northern Ireland in the form of Individual Arts, Aces and Travel Awards. In 2017 she was awarded the Ireland Chair of Poetry's Inaugural Travel Bursary for work on Anne More, the wife of John Donne. In November 2018 this poem was runner-up in the Coast-to-Coast Single Poet Competition for a stitched limited edition, created by the artist Maria Izakova Bennett. In January 2019 a long poem, 'Strabane', was broadcast on BBC Radio 4 in 'Conversations on a Bench', and has just been published by Arlen House Press, Dublin, with photographs by Malachi O'Doherty. Her debut collection, The Work of a Winter (Arlen House, 2018), is in its second edition. She taught Creative Writing with the Open University for ten years and teaches English in St Dominic's Grammar School in Belfast.