Warning
: include(topMenuBar.php): failed to open stream: No such file or directory in
/home/domains/maryevans.com/docs/poetryblog.php
on line
78
Warning
: include(): Failed opening 'topMenuBar.php' for inclusion (include_path='.:/usr/share/php') in
/home/domains/maryevans.com/docs/poetryblog.php
on line
78
Warning
: include(topFullWidth.php): failed to open stream: No such file or directory in
/home/domains/maryevans.com/docs/poetryblog.php
on line
79
Warning
: include(): Failed opening 'topFullWidth.php' for inclusion (include_path='.:/usr/share/php') in
/home/domains/maryevans.com/docs/poetryblog.php
on line
79
Warning
: include(poetrySideBar.php): failed to open stream: No such file or directory in
/home/domains/maryevans.com/docs/poetryblog.php
on line
81
Warning
: include(): Failed opening 'poetrySideBar.php' for inclusion (include_path='.:/usr/share/php') in
/home/domains/maryevans.com/docs/poetryblog.php
on line
81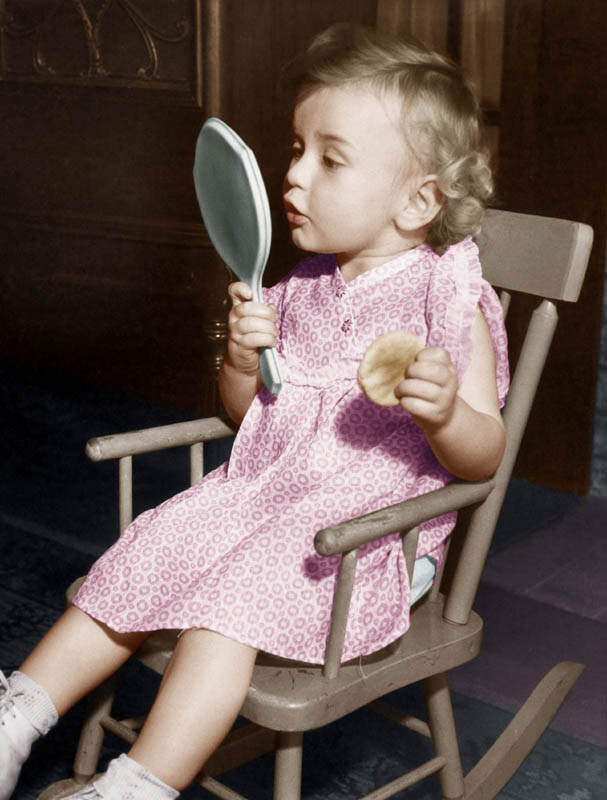 Mirror
Mirror, you old jobsworth, you know
all my fractures
and keep your counsel.
Half-turn. There – twelve years old,
my scowl,
half confidence, half hope of better.
Eyes dip, and I'm in an aisle. A dress
my mother
liked and I did not.
Veiled dreams. That need to please,
appease,
make good, make safe. Make it out of there.
Between my brows one line of
anguish,
cut two years later when he left.
Frail memory. It skims and
sinks away
as if it never happened.
A gleam. Breath held, I watch
my baby
reach – two steps, one step, three – and walk.
Decades splinter into
gemstone shards
we shake, twist, blend with artless grace.
You, mirror, witness all our pieces,
glitterdust
of loss and kisses.
© Rosie Johnston
Picture 11123621, photograph, early 20th century,  image copyright Mary Evans / Everett Old Visuals
Rosie Johnston's fourth poetry book, Six-Count Jive, was published in March 2019 by Lapwing Publications in Belfast where she was born. Her poems have appeared or featured in London Grip, Culture NI, FourxFour, The Honest Ulsterman, Ink, Sweat & Tears, Hedgerow, Mary Evans Picture Library's Poems and Pictures blog, Words for the Wild, From The Edge magazine and Live Canon's anthologies 154: In Response to Shakespeare's Sonnets (2016) and New Poems for Christmas (2018). She has read her poetry widely, most recently as part of the Canterbury Festival and in the Linen Hall Library and Crescent Arts Centre in Belfast. She runs writing groups in Cambridge and Canterbury and is host of Whitstable's monthly spoken word event, Word of Mouth. www.rosiejohnstonwrites.com