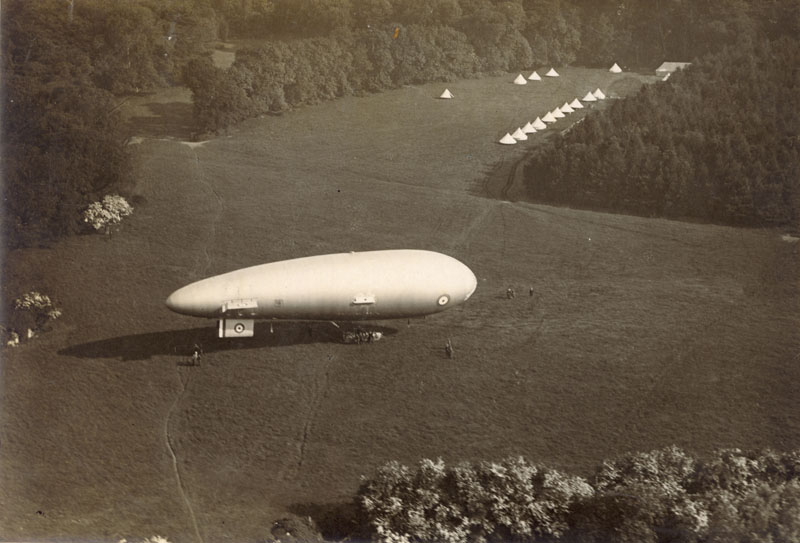 Mooring Out Station
Late in World War One, the grounds at Malahide Castle in County Dublin were used as a mooring out substation to the main Anglesey station for non-rigid airships.
Early morning, the best time to pick
the mushrooms that spring up in the
dew. The girls love the neat white
bonnets, the lace edged flats; the tight
pleated ribbons of silk underneath,
the feel of damp flesh, the smell of earth,
and of something about to happen.
The men emerge at the same time,
from their bell tents. They might be
picked as easily; their bare morning
chests, smelling of earth and something
about to happen. The girls creep close,
learn the shape of jaws and ears, imagine
they can count moles and freckles.
They tune themselves to the men's
stretches; mourn over scars and burns
shape their lips to the whistles, whisper
names. Above them, the huge ship floats;
tethered by a hundred ropes, like
a dragon from a fairy tale; extinguished,
surly, but still worth the watching,
None of them know this weapon will
never be used. This war is almost over;
another one about to begin. One where
it will be wise to forget the men springing
from their bell tents, baring their burnt
skin; let the mushrooms rot in the fields
claim the woods only ever grew primroses.
© Linda McKenna
Picture 10991973, photograph, Royal Aeronautical Society, 1918,  image copyright Mary Evans / Royal Aeronautical Society
Linda McKenna is from Dublin and lives in County Down.  She has had poems published or forthcoming in, among others,  Poetry Ireland Review, The North, The Honest Ulsterman, Crannóg, Skylight 47, The Blue Nib, Dodging the Rain, and on the Mary Evans Picture Library Poems and Pictures site.  She won the Seamus Heaney award for new writing in March 2018, and the Red Line Book Festival (Poetry) award in October 2018.  Her debut collection, In the Museum of Misremembered Things, was published by Doire Press in March 2020.