Warning
: include(topMenuBar.php): failed to open stream: No such file or directory in
/home/domains/maryevans.com/docs/poetryblog.php
on line
78
Warning
: include(): Failed opening 'topMenuBar.php' for inclusion (include_path='.:/usr/share/php') in
/home/domains/maryevans.com/docs/poetryblog.php
on line
78
Warning
: include(topFullWidth.php): failed to open stream: No such file or directory in
/home/domains/maryevans.com/docs/poetryblog.php
on line
79
Warning
: include(): Failed opening 'topFullWidth.php' for inclusion (include_path='.:/usr/share/php') in
/home/domains/maryevans.com/docs/poetryblog.php
on line
79
Warning
: include(poetrySideBar.php): failed to open stream: No such file or directory in
/home/domains/maryevans.com/docs/poetryblog.php
on line
81
Warning
: include(): Failed opening 'poetrySideBar.php' for inclusion (include_path='.:/usr/share/php') in
/home/domains/maryevans.com/docs/poetryblog.php
on line
81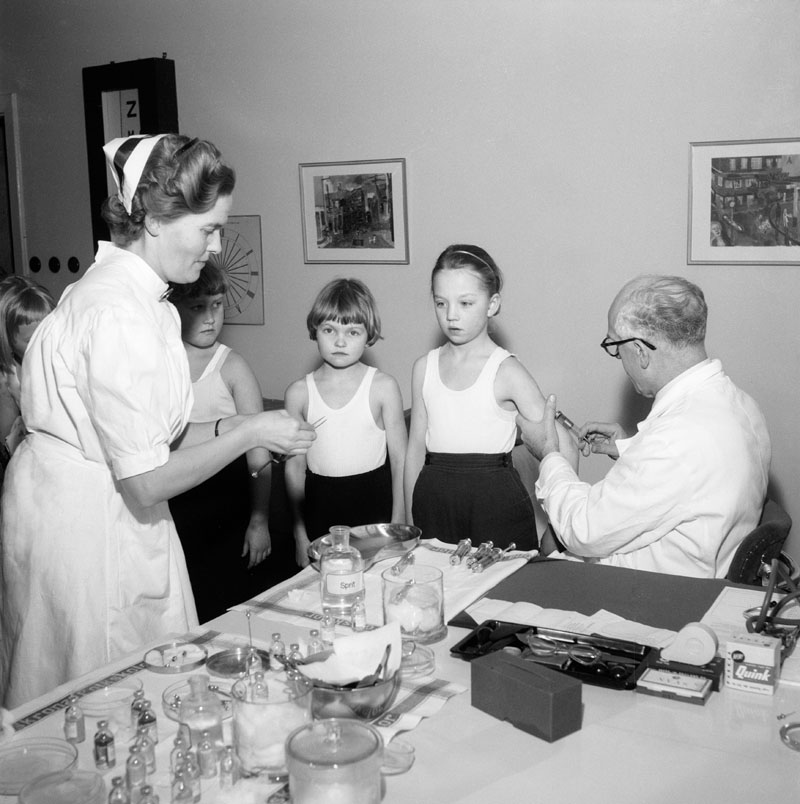 It felt like Plague
Just an ordinary day at school
taking the register – Sandra
she's not here Miss
got the flu
that's what we told our mothers.
An ambulance was called
we heard the words
iron lung – fear bred fury
– don't share pencils
– come straight home
– wash your hands again.
Mothers weep, doors bang
the doctor doesn't sleep
suspicion swirls like chaff down streets
– it breeds in dirty houses
– he'd been swimming in the river
– the gypsies were through last month.
A village held its breath
watching – waiting
for the heat to die down
for the virus to leave
caliper, paralysis, polio
new words in our vocabulary.
© Kathleen Swann
Picture 10427383, photograph, 1957,  image copyright Mary Evans / Landskrona Museum
Kathleen Swann spent her childhood in rural Cumbria and now lives in North Yorkshire. She enjoyed 26 years of working life in the NHS and now, since her retirement, is spending time studying and writing poetry. Her poems embrace relationships with family and friends and reflect a love of rural life and its characters. Kathleen takes us with her on visits to other countries and cultures as she observes human behaviour. Her poems are published online, in anthologies, magazines and brought together in her first collection, Ripples beyond the Pool (July 2019). In 2019 Kathleen worked with a young composer to produce a song which was performed at the International Leeds Lieder Festival. kathleenswann.co.uk