Warning
: include(topMenuBar.php): failed to open stream: No such file or directory in
/home/domains/maryevans.com/docs/poetryblog.php
on line
78
Warning
: include(): Failed opening 'topMenuBar.php' for inclusion (include_path='.:/usr/share/php') in
/home/domains/maryevans.com/docs/poetryblog.php
on line
78
Warning
: include(topFullWidth.php): failed to open stream: No such file or directory in
/home/domains/maryevans.com/docs/poetryblog.php
on line
79
Warning
: include(): Failed opening 'topFullWidth.php' for inclusion (include_path='.:/usr/share/php') in
/home/domains/maryevans.com/docs/poetryblog.php
on line
79
Warning
: include(poetrySideBar.php): failed to open stream: No such file or directory in
/home/domains/maryevans.com/docs/poetryblog.php
on line
81
Warning
: include(): Failed opening 'poetrySideBar.php' for inclusion (include_path='.:/usr/share/php') in
/home/domains/maryevans.com/docs/poetryblog.php
on line
81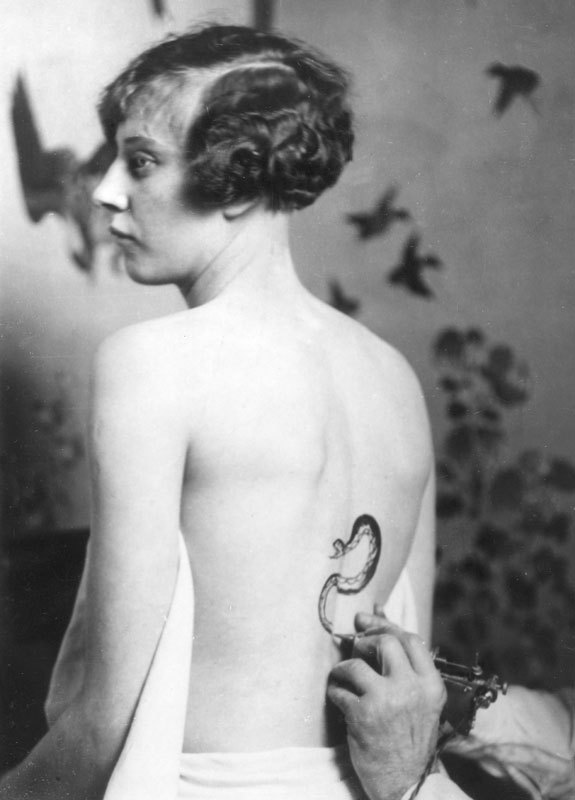 Crow
Twelve months after the last shedding
I inscribe you in my skin, hooded one,
who from the shading canopy observe
your fledgling young try out their wings.
Your monochrome disguise deters
close scrutiny – the brash pink jay your foil,
while you, unseen, craft tools for winkling
grubs, calculate the drop
required to crack a nut.
Black ink faded to slate grey refreshed
through further needling, skeletal
shades of white etched through dull matt
outline each feather's vane. It stings.
Scoring you into my breastbone,
down each hard knot on my spine,
a wing to run from scapula to coccyx, poised,
and ready.
© Amanda Bell, first published in First the Feathers, Doire Press, 2017
Picture 10185998, photograph, 1929,  image copyright Mary Evans / Barnaby's Picture Library
Amanda Bell's publications include First the Feathers (Doire Press, 2017), which was shortlisted for the Strong Shine Award for best first poetry collection; Undercurrents (Alba, 2016), which won a HSA Kanterman Merit Book Award and was shortlisted for a Touchstone Distinguished Books Award; The Lost Library Book (Onslaught, 2017); and the loneliness of the sasquatch, from the Irish by Gabriel Rosenstock (Alba, 2018). Her poem 'Points' was on a shortlist of four for the Irish Poem of the Year 2017 in the Irish Book Awards. Her YA novel was shortlisted for the Irish Writers Centre Novel Fair 2020. Amanda has a new collection forthcoming from Doire Press in 2021. She works as a freelance editor specialising in poetry manuscripts, and is assistant editor of The Haibun Journal.