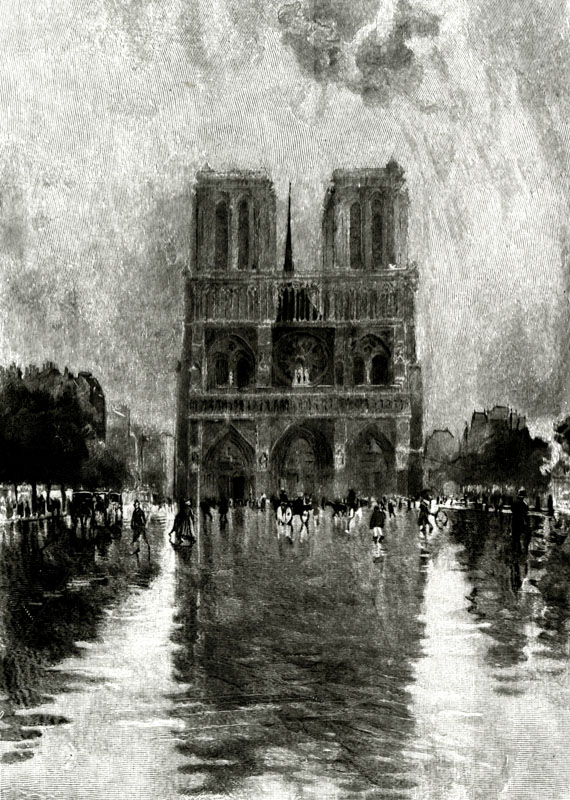 Some Days I'm Visited by a Church of Rain
The building wanders around the sky
then falls on top of me. Clouds are its ceiling,
droplets the choir. Inside, stones achieve
the ardent shades of stained glass.
Jagged pines melt and glitter. The broken air
remembers and I listen in the steam and hiss
of psalms for voices I have lost. I dream of striding
down the pavements' dazzling aisles for years.
Then I meet the clean smell left behind, recall
how only through forgetting can the church arrive,
and I come back to my small garden,
its chalky earth young, forgiven.
© John McCullough
Picture 10809637, unattributed engraving, 1906,  image copyright Mary Evans
John McCullough lives in Brighton and Hove. His first collection of poems, The Frost Fairs, won the Polari First Book Prize in 2012 and was a Book of the Year for The Independent as well as a summer read in The Observer. His second, Spacecraft (Penned in the Margins, 2016), was named one of The Guardian's Best Books for Summer and was shortlisted for the Ledbury-Forte prize. His new collection, Reckless Paper Birds, explores vulnerability and the human body. It has been shortlisted for the Costa Poetry Award.