Warning
: include(topMenuBar.php): failed to open stream: No such file or directory in
/home/domains/maryevans.com/docs/poetryblog.php
on line
78
Warning
: include(): Failed opening 'topMenuBar.php' for inclusion (include_path='.:/usr/share/php') in
/home/domains/maryevans.com/docs/poetryblog.php
on line
78
Warning
: include(topFullWidth.php): failed to open stream: No such file or directory in
/home/domains/maryevans.com/docs/poetryblog.php
on line
79
Warning
: include(): Failed opening 'topFullWidth.php' for inclusion (include_path='.:/usr/share/php') in
/home/domains/maryevans.com/docs/poetryblog.php
on line
79
Warning
: include(poetrySideBar.php): failed to open stream: No such file or directory in
/home/domains/maryevans.com/docs/poetryblog.php
on line
81
Warning
: include(): Failed opening 'poetrySideBar.php' for inclusion (include_path='.:/usr/share/php') in
/home/domains/maryevans.com/docs/poetryblog.php
on line
81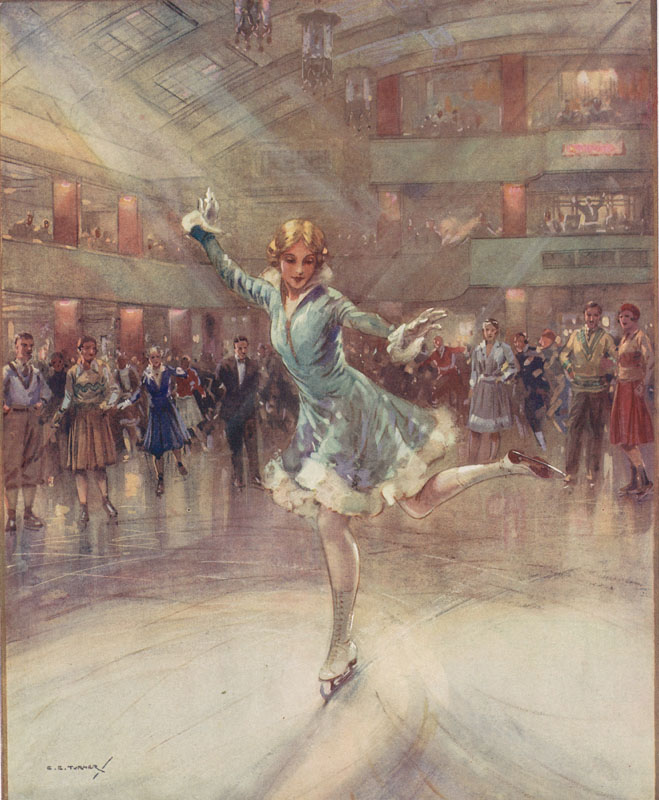 The Grace in a Metal Blade
For once it's not her blonde hair
that's gathering a crowd, but
the curve of tension in her calf,
the line and shape of her arms,
the angle at her knee,
the extension in her foot,
the other foot just tilting
into an outside edge,
one smooth line carved into the ice.
The flounces on her fur-trim
disciplined into shape.
She's not fixed on the crowd
but focused on the way
light plays across the ice,
the friction-free ease of movement.
When the session's done
and she steps from ice to floor,
she'll wobble and wonder
at the effort it takes to walk.
© Emma Lee
Picture, 10224460, illustration by C E Turner, 1931,  image copyright Mary Evans / Illustrated London News
Emma Lee's poetry collections are The Significance of a Dress (Arachne, 2020), Ghosts in the Desert (Indigo Dreams Publishing, 2015), Mimicking a Snowdrop (Thynks Press, 2014) and Yellow Torchlight and the Blues (Original Plus, 2004). She co-edited Over Land, Over Sea (Five Leaves, 2015), and curated Journeys in Translation. Emma Lee's poems have been translated into Chinese, Farsi, German, Greek, Italian, Polish, Portuguese and Romanian. She is Reviews Editor for The Blue Nib, and reviews for magazines and blogs at http://emmalee1.wordpress.com. Her short stories have been widely published in anthologies and magazines including Story Cities (Arachne Press), Gentle Footprints (Bridgehouse Publishing, UK) and Extended Play (Elastic Press, UK). She has performed at The Poetry Cafe in London, all three Leicestershire universities, and at LCFC, amongst other venues.