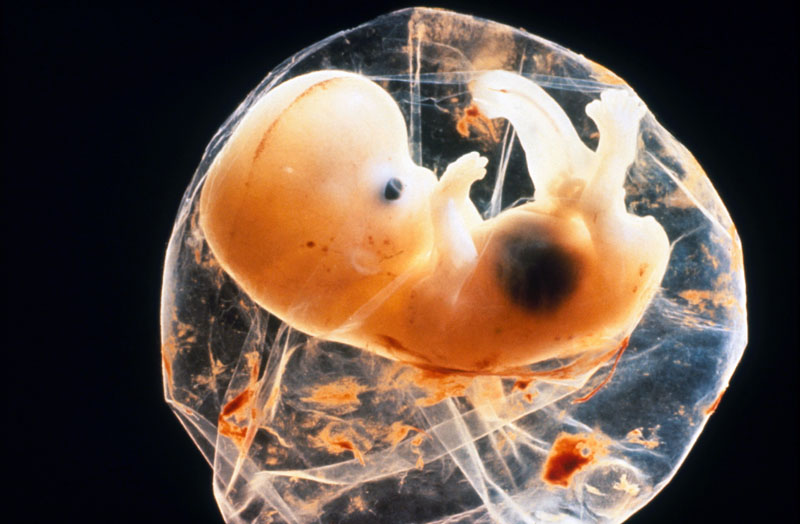 Fizzog
In the beginning a pin-head glob of flesh
swells itself to something like a pumpkin,
nostrils and maw gouged by a blunt knife.
For this boneless goblin, needing to find itself
a human shape, it's now or never. You'd think
some invisible sculptor had a hand in it,
squeezing the blind clay to gurns and grins
before thinking better of it, sealing the flesh
together, nose to lip, with the lightest touch
of a little finger. This mask of innocence
makes its treacherous journey into light
bearing that soft impress we call a philtrum –
the word Romans used for a special potion,
maybe a spell, to prompt what we call love.
© Jill Sharp
Picture 12697968, photograph, 20th century,  image copyright Mary Evans / Science Source
Jill Sharp has worked as a tutor with the Open University and has also taught excluded teenagers. Her poetry has been published in many magazines including Acumen, Envoi, The Frogmore Papers, The Interpreter's House, Mslexia, Prole, Poetry Salzburg Review, Stand, and Under the Radar. Her work has also appeared in various anthologies, most recently Pale Fire (Frogmore Press) and Contemporary Gothic Verse (Emma Press), as well as online at And Other Poems and Ink, Sweat and Tears. Her pamphlet Ye gods was published by Indigo Dreams (2015), and she was one of six poets in Vindication, an anthology from Arachne Press (2018). Her poem 'Cemetery crow' was placed joint-second in the 2020 Keats-Shelley Prize. Jill was a founder member of Swindon's BlueGate Poets, and she has run regular writing workshops at the Richard Jefferies Museum at Coate.