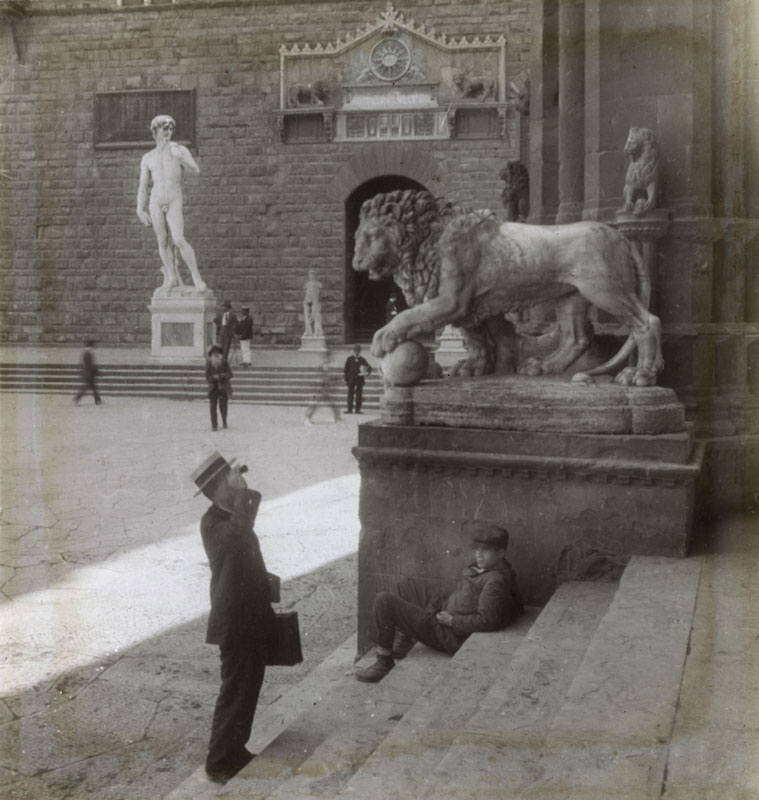 Piazza della Signoria
Nothing can be more civilised
than sipping a cappuccino in a Florentine square
where replica statues lined up municipally
draw drifting crowds from far and wide
which form, reform and circulate,
then dissipate like smoke. My friend exhales.
The top-heavy tower trembles in the rising spiral.
It was here they built another plinth.
Where vanities once burned, a fiery preacher was himself
exhibited to be consumed by fire
before a crowd drawn from far and wide.
All in a square where my friend inhales,
crowds continue in their swirls
and my coffee steams in fresh Florentine air.
© Richard Westcott
Picture 11990226, photograph on a glass slide, circa 1890s,  image copyright Mary Evans
Richard Westcott (once upon a time a doctor) has had poems pop up in all sorts of places, won a prize here and there, and been listed, commended and highly commended in various competitions (including the Hippocrates, York Mix, Camden Lumen, Plough, and Poetry on the Lake).  He won the Poetry Society's annual Stanza Competition in 2018, judged by Penelope Shuttle, with his poem 'A Traditional Cure'.  A pamphlet, There they live much longer, was published by Indigo Dreams in March 2018, and his blog is at www.richardwestcottspoetry.com