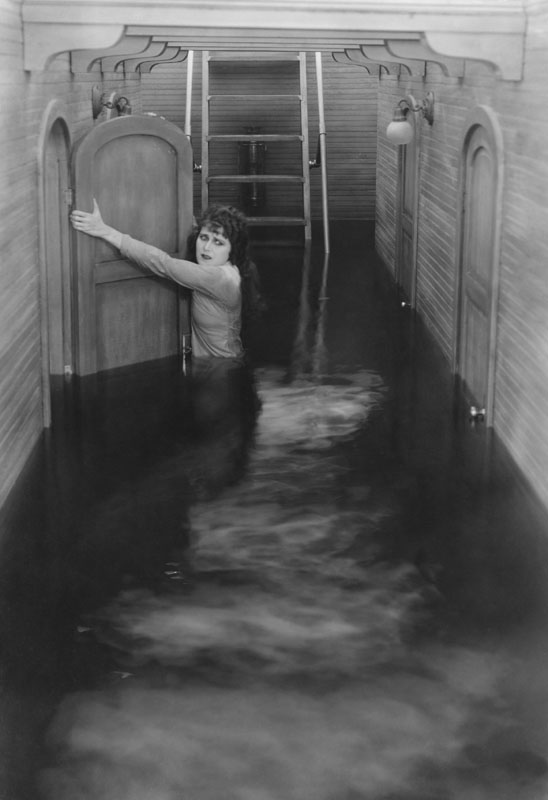 Storm Song
The autumn line-storm bears the lake
to my door, and in the pounding water
is my menagerie of three-eyed fish, and
in the ardent air – an arabesque of ravens and rooks.
This porous house has never resisted,
the wind unknots and they all rain in.
Once inside, my fishes and the birds
resume their routine of swim and storm song.
I find breathing space on a bloated chest,
rise to the rafters with a raven and a rook
beside me, monitoring the flood. Attic curtains
spinnaker, and the house runs before the wind.
In large dense shoals, my fish dive free
to the deepest available water, drawing
down the broken echoes of my humming,
sending back up the stormy shadows of my song.
© Eleanor Hooker
Picture 11126995, unattributed photograph, early 20th century, image copyright Mary Evans / Everett Collection/Old Visuals
Eleanor Hooker's third poetry collection and two poetry chapbooks are due for publication in 2021. She is currently working on a novel. Her other poetry collections are A Tug of Blue (2016) and The Shadow Owner's Companion (2012), both with Dedalus Press. Her poems have been published internationally in literary journals including: Poetry Ireland Review, Poetry Review, POETRY magazine, Agenda, Winter Papers, The Stinging Fly, The Well Review, The Blue Nib and Banshee. Her flash memoir will appear in A Page from My Life (Harper Collins), an anthology of 150 stories to be published in October 2020. Eleanor holds an MPhil (Distinction) in Creative Writing from Trinity College, Dublin, an MA (Hons) in Cultural History from the University of Northumbria, and a BA (Hons 1st) from the Open University, UK.  She is a Fellow of the Linnean Society of London (FLS). She is a helm and Press Officer for Lough Derg RNLI Lifeboat. www.eleanorhooker.com