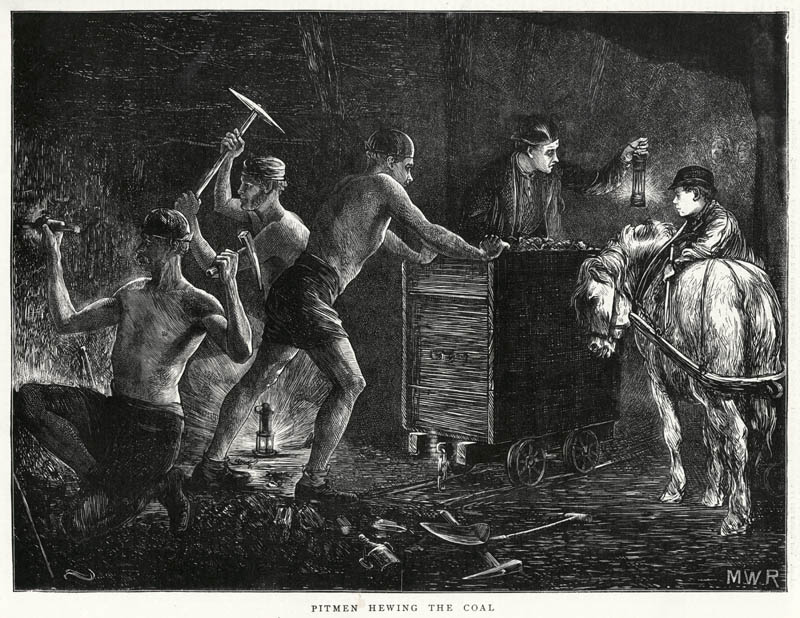 Pit Ponies of Glendasan
Hitched to an eight-hour shift
in britchens, hames and traces,
they follow the miners' carbide lights,
halt under hoppers, turn
on a thruppence and lean into their collars
to pull the five-wagon train.
Low-set cobs from the Curragh,
a piebald and two greys, their hooves
fall heavy as hammers on granite.
They haul lengths of larch for pit props,
pneumatic drills, boxes of gelignite,
and, from time to time, deliver
injured men back to daylight.
The miners pat their necks in passing
and feed them windfall apples –
comrades in toil and first to stall,
legs locked at a sudden rumbling, a change
in the air or the rush of running water.
© Jane Clarke
Picture 10023563, engraving in The Graphic, 1871, image copyright Mary Evans / Illustrated London News
Jane Clarke grew up on a farm in Co. Roscommon and now lives in Glenmalure, Co. Wicklow. Her second collection, When the Tree Falls (Bloodaxe Books, 2019), was longlisted for the 2020 Royal Society of Literature's Ondaatje Prize and was shortlisted for the Irish Times Poetry Now Award 2020 and the Farmgate Café National Poetry Award 2020. Her first collection, The River (Bloodaxe Books, 2015), was shortlisted for the 2016 Royal Society of Literature's Ondaatje Prize and in that year she also won the Hennessy Literary Award for Emerging Poetry and the inaugural Listowel Writers' Week Poem of the Year Award. Her illustrated chapbook, All the Way Home (Smith Doorstop, 2019), responds to the Auerbach family archive of First World War letters and photographs represented by the Mary Evans Picture Library, London.