Warning
: include(topMenuBar.php): failed to open stream: No such file or directory in
/home/domains/maryevans.com/docs/poetryblog.php
on line
78
Warning
: include(): Failed opening 'topMenuBar.php' for inclusion (include_path='.:/usr/share/php') in
/home/domains/maryevans.com/docs/poetryblog.php
on line
78
Warning
: include(topFullWidth.php): failed to open stream: No such file or directory in
/home/domains/maryevans.com/docs/poetryblog.php
on line
79
Warning
: include(): Failed opening 'topFullWidth.php' for inclusion (include_path='.:/usr/share/php') in
/home/domains/maryevans.com/docs/poetryblog.php
on line
79
Warning
: include(poetrySideBar.php): failed to open stream: No such file or directory in
/home/domains/maryevans.com/docs/poetryblog.php
on line
81
Warning
: include(): Failed opening 'poetrySideBar.php' for inclusion (include_path='.:/usr/share/php') in
/home/domains/maryevans.com/docs/poetryblog.php
on line
81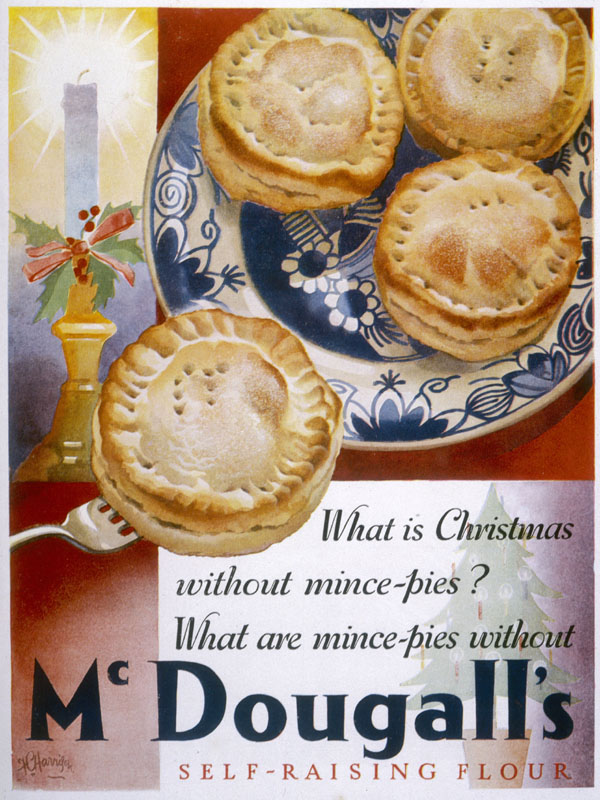 Mince Pies – For Phyllis
The cutters are steel, sharp as a tooth.
They rattle in the bag,
remembering too many years in a bottom drawer.
They cry for the fattening of lard,
crisp flakes slow-baked in a wood oven,
her hands, the push of callused pads on ridged edges.
The cut and twist; practiced, punctual,
pushing pastry into the parchmented tray.
So many little worlds pieced together.
They have no patience for mine,
slipping from my butter-soft hands,
a clumsy clinging to ritual and loss.
Missing her metrical measurements,
formica counters,
how even after fifty years her English tones
could slice the bones of a Vermont winter.
© Eilish Fisher
Picture 10016722, advertisement in Good Housekeeping, December 1932, image copyright Mary Evans
Eilish grew up on a farm in rural Vermont and moved to Ireland in 1998. After more than twenty years in Ireland, she considers herself both a Wicklow and Vermont writer.  Her poetry has been published in Crannog Literary Magazine, Three Drops From a Cauldron, The Ogham Stone and Cailleach literary journals and in the anthology Writing Home; The 'New Irish' Poets, published by Dedalus Press. In summer 2020 she won second place in the Ken Saro-Wiwa Poetry Competition and was also awarded a place on the Words Ireland Mentoring Programme for young adult and children's literature. Her first children's novel was shortlisted for the Mslexia Children's Novel Award in 2018. She received a master's degree in early medieval Irish history and literature and a doctorate in medieval English literature from the National University of Ireland, Maynooth. Eilish lives in Glenmalure, County Wicklow.