Warning
: include(topMenuBar.php): failed to open stream: No such file or directory in
/home/domains/maryevans.com/docs/poetryblog.php
on line
78
Warning
: include(): Failed opening 'topMenuBar.php' for inclusion (include_path='.:/usr/share/php') in
/home/domains/maryevans.com/docs/poetryblog.php
on line
78
Warning
: include(topFullWidth.php): failed to open stream: No such file or directory in
/home/domains/maryevans.com/docs/poetryblog.php
on line
79
Warning
: include(): Failed opening 'topFullWidth.php' for inclusion (include_path='.:/usr/share/php') in
/home/domains/maryevans.com/docs/poetryblog.php
on line
79
Warning
: include(poetrySideBar.php): failed to open stream: No such file or directory in
/home/domains/maryevans.com/docs/poetryblog.php
on line
81
Warning
: include(): Failed opening 'poetrySideBar.php' for inclusion (include_path='.:/usr/share/php') in
/home/domains/maryevans.com/docs/poetryblog.php
on line
81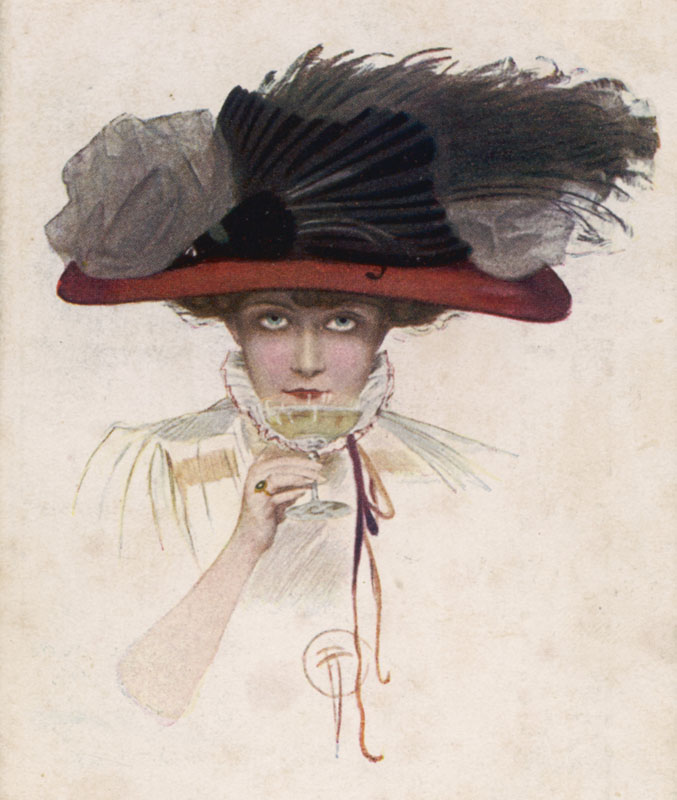 Granted
The girl with a raised glass
will never really know
the bowl, the stem,
the foot, tapped free
by journeymen
who blew and dripped
all day in the heat,
brewed tea
on the furnace roof,
talked horses and money
while shovels of cullet
were shaken into its throat.
She hasn't heard
the crucible;
the hum, the roar, the twist,
the roll, the melting song
of sand and lead –
the white-hot honey
swarming on a wand.
Or seen the sorcerer lift a bulb
of liquid light,
summon from his breath a shape
and work it with the pipe,
the jacks, the shears, the iron,
the block, the paddle, the punty.
She'll never think
about the slow anneal,
the lathe, the cut, the mop, the buff
or the beauty in a bird
before it's plucked
to make her feathered hat, or how
the effervesce of youth
and chilled champagne
bubble up,
and for a moment, chime.
© Michael Ray
Picture 10083167,  illustration on a postcard, 1907, image copyright Mary Evans
Michael Ray is a prizewinning poet and glass artist living in Cork, Ireland. His poems have been anthologised and have appeared in many journals including The Moth, The Shop, Cyphers, Southword, The Stinging Fly, Magma, Numero Cinq, The Well Review, The North and New Coin. His glass can be seen at www.glitteringglass.com