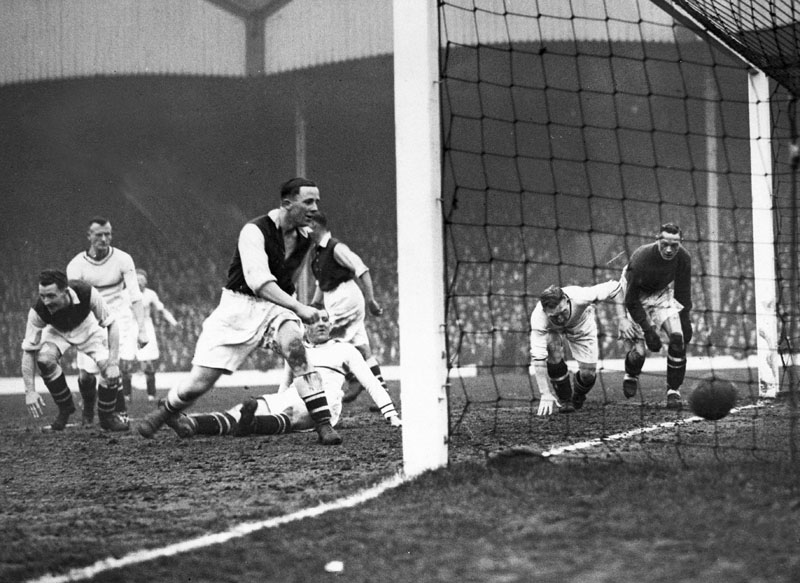 Visits to Villa Park
He's flush with his first wages, five
Woodbines in his pocket. He blows
into ungloved hands, roars Pongo*
towards the goalmouth, waves his cap
as the ball spins high into the net.
I finger my claret and blue scarf,
flap it round my neck, heart thumping.
The home team thunders up the tunnel.
Cheers echo like running footsteps.
I put names to faces and Dad smiles.
We sit in the stands, share a pigeon's
eye view, a shilling bar of Cadbury's
Wholenut and the Season of 1960-61.
Dad's T.B. is in remission: breath enough
for two bus journeys there and back
and a ye-ss when Villa equalise against
the run of play, go ahead in injury time.
Floodlights watch like tiny silver moons,
switch to gold when fog muffles the pitch.
Dad coughs a little, and I clasp his arm.
* Tom "Pongo" Waring, Aston Villa striker and legend, 1928-1935
© Sheila Jacob, from Through My Father's Eyes, 2019
Picture 10247847, photograph, 10 March 1934, image copyright Mary Evans / Imagno
Sheila Jacob was born and raised in Birmingham, and lives with her husband in North Wales. She resumed writing poetry in 2013 after a long absence. She's had poems published in Sarasvati, Reach Poetry, The Dawntreader, The Cannon's Mouth, Clear Poetry and The Blue Nib, amongst others, and on various webzines including Atrium and The Poetry Village. In March 2019 she self-published a chapbook of poems, Through My Father's Eyes. The poems form a tribute to her father and his working-class upbringing in Birmingham.