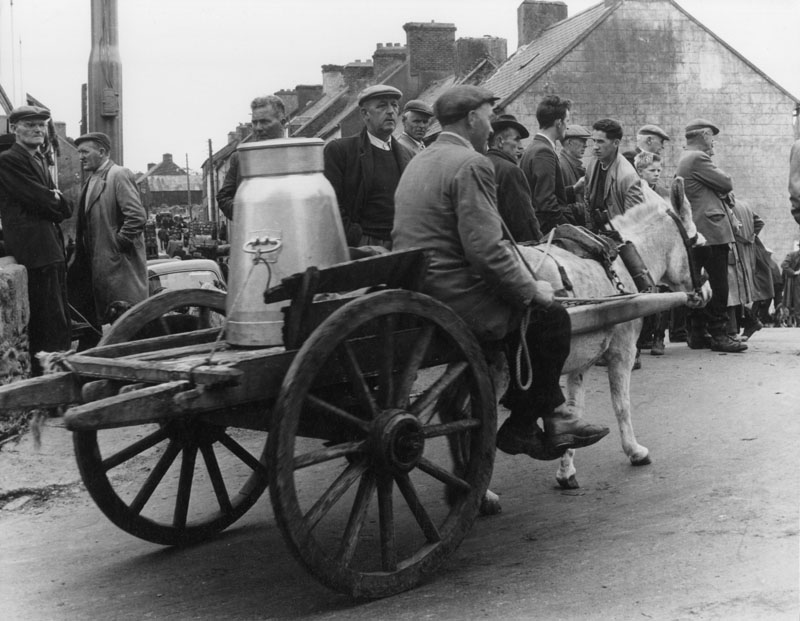 Nothing today thank you
Most things that have happened
since this world began
I know nothing about,
but I do know
my Uncle Harry was a milkman,
a dawn watchman
in a long white coat,
who went from door to door
12341leaving the day's gold-top
12341with a clink on the step,
12341listening to water run and
12341footsteps pause
12341as they hear him outside
12341from the top of the stairs.
Reminding each other
when they'll be back
they walk off down the road
through morning sunlit haze.
Harry stables his horse
and goes to bed,
the curtains drawn against
all light and talk,
12341hears the geese honk
12341flying away together
12341in the coal-dust scented air,
12341that makes the streets
12341down which he goes
12341disappear.
© Chris Hardy
Picture 10185514, photograph by Henry Grant, 1962, image copyright Mary Evans / Henry Grant
Chris Hardy has travelled widely and now lives in London. His poems have been published in Stand; Tears in the Fence; The Dark Horse; The Interpreter's House; The North; The Rialto; ink sweat and tears, the compass magazine and many other places. He is in LiTTLe MACHiNe (described by Carol Ann Duffy as 'The most brilliant music and poetry band in the world'), performing their settings of well-known poems at literary events in the UK and abroad. His fourth collection, Sunshine at the end of the world, was published by Indigo Dreams Publications in 2017. Roger McGough said about the book: 'A guitarist as well as a poet Chris Hardy consistently hits the right note, never hits a false note' and Peter Kennedy, in London Grip says, 'Chris writes vivid, expository poetry often heavy with portent and mystery. Each of these poems is a story as beautifully muscular and slippery as an eel'.