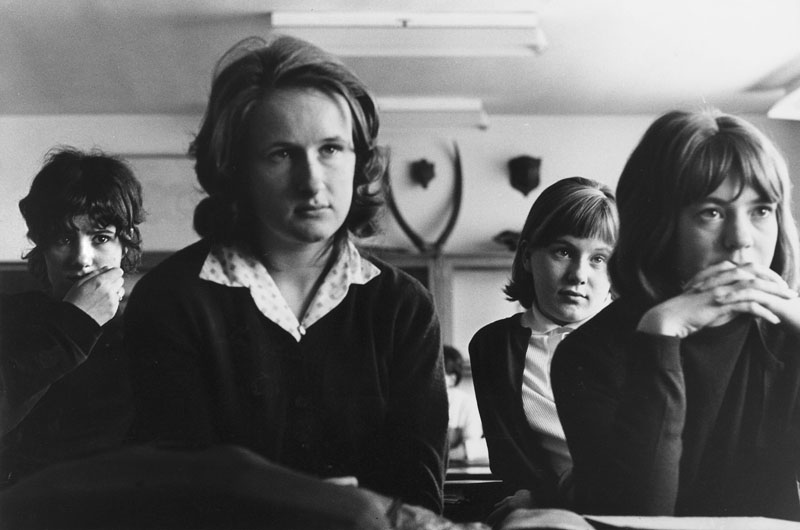 Black Mountain Viewed From English 6
Sometimes in the middle of a class we'll stop
and look out the window. It is the highest and
biggest in the school and framed by it is a sweep
of mountain that gives a sense of the west
of the city. The little streets become beautiful
geometry as the light catches identical parades
of chimneys grey below the mountain's green
and on the top a lazy orthographic cloud
will lie along it in the morning until moved
or melted by the sun. And one day there's a fire
with the fireman up a ladder peeing his water
on a burning house and every so often a sun-burst
of white gulls will wheel upward lifting like a surprise
across the rooftops and the tall row of poplar trees
that bind the nuns' graveyard have been pollarded
stark against the winter sky and often weather
will roll in and down, rain bleaching all the colour
out to a grey blur, only for it to come back
in bright contrasts after the shower.
© Maureen Boyle
Picture 10152308, photograph by Roger Mayne, 1965, image copyright Mary Evans / Roger Mayne
Maureen Boyle studied English and History at Trinity College, Dublin, and in 2005 was awarded the Master's in Creative Writing at Queen's University Belfast. She has won various awards including the Ireland Chair of Poetry Prize and the Strokestown International Poetry Prize, both in 2007, and in 2013 she won the Fish Short Memoir Prize.  She has received support from the Arts Council of Northern Ireland in the form of Individual Arts, Aces and Travel Awards. In 2017 she was awarded the Ireland Chair of Poetry's Inaugural Travel Bursary for work on Anne More, the wife of John Donne. In January 2019 a long poem, 'Strabane', was broadcast on BBC Radio 4 in 'Conversations on a Bench', and has just been published by Arlen House Press, Dublin, with photographs by Malachi O'Doherty. Her debut collection, The Work of a Winter (Arlen House, 2018), is in its second edition. She taught Creative Writing with the Open University for ten years and teaches English in St Dominic's Grammar School in Belfast.