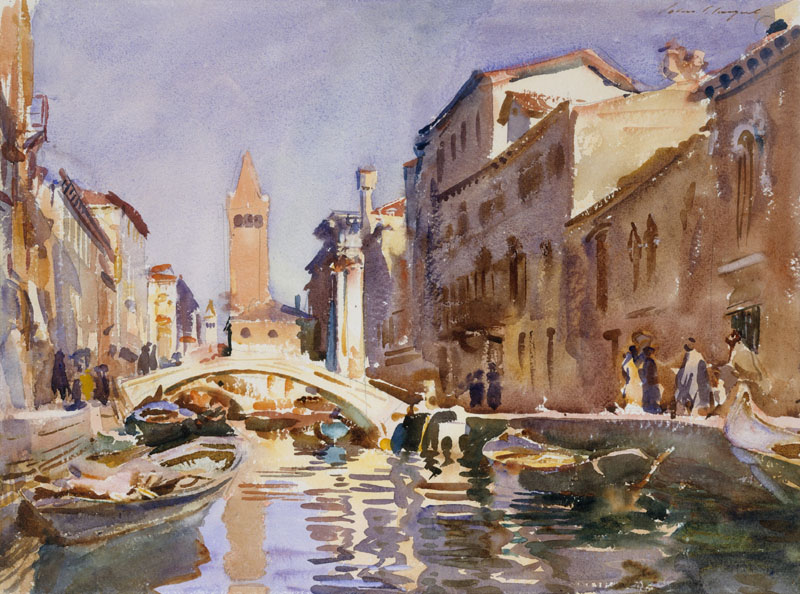 In Venice with John Singer Sargent
Let me wander with you around La Serenissima,
paint brush in hand and discover how sunlit reflections
illuminate edifices and shape columns.  How paint
creates flashes of colour across the paper to bring
to life the structure of a school, a palace or a home,
or even a flight of steps that descends onto a canal,
where a boat waits to take us to contemplate
Palazzo Grimani, the Ducale at Piazza San Marco,
then visit the much-depicted Madonna Della Salute,
dome prominent in this day of pure artistic rapture.
Paint me in a gondola, Maestro, in my skirt of paper
white, the folds in fine edged washes of purple,
while I lay back and allow my hand to immerse
into your watercolour suffusion of lagoon spray,
so real I'm sure it will be damp when I raise it
to shake yours for the pleasure of knowing you.
© June Sciortino
Picture 11965348, Venetian Canal by John Singer Sargent, 1913, image copyright Mary Evans / Everett Collection
June Sciortino is a retired accountant. She lived in Rome for many years, where she wrote poetry but preferred painting in oils and acrylics. She enjoyed composing haiku, and has been published in the US Haiku Journal. She became carer for her daughter Natascia, who eventually passed away in 2008. June then turned to writing; took a certificate in Creative Writing from the Open College of the Arts, where she wrote mostly short stories, until she rediscovered her love of poetry while studying creative writing at Morley College. Her poems have been published in South Bank Poetry, DulwichOnView, Morley Poets First Anthology, Lighten Up Online, and Second Light Live, and she was shortlisted for the Plumstead Poet Laureate competition. She is currently Rep for the Greenwich Meantime Stanza.