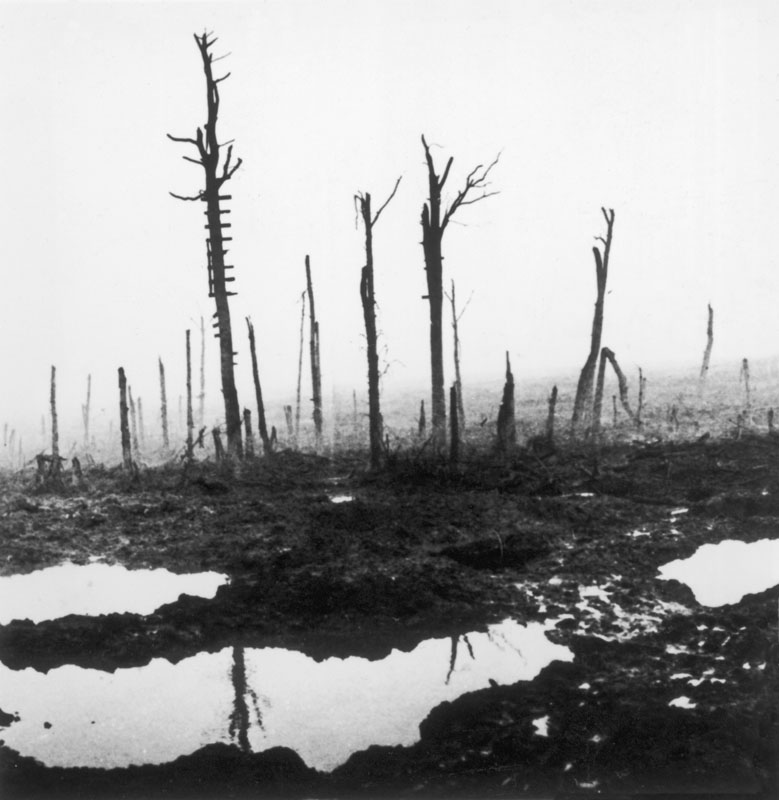 Sticks at Passchendaele
Stranded, reaching nowhere,
crying into grey lagoons
no-one hears but ghosts see
bare timber and the sleep of sun.
Our cracked skins fleck away,
sticks to mud, we are eclipsed.
All withered, fate insisted
storming things clear for glory.
Stunted in a pallid breeze,
weightless, wretched discontent.
We will die petrified,
dignified and innocent.
Life awaits the queen of peace.
The king is dead and friction war
slaying fields and politics,
are functions for the history books.
© Derek Harper
Picture 10265329, unattributed photograph, 1917, image copyright Mary Evans / Robert Hunt Library
Derek Harper has been writing for some years without any real desire to be published. Then a chance meeting led to the publication of his pamphlet, A Communion of Breath, in 2017 (Eyewear, now Black Spring Press). He is as much influenced by song lyrics as by poetry: for example Bob Dylan and Joni Mitchell, Sylvia Plath and Gwendolyn Brooks. He takes special delight in ekphrastic poems. Derek has attended several poetry classes at The Poetry School and Morley College, as well as workshops based on art gallery visits. He lives with his wife in Eltham, and enjoys travelling, which in turn influences his poetry.