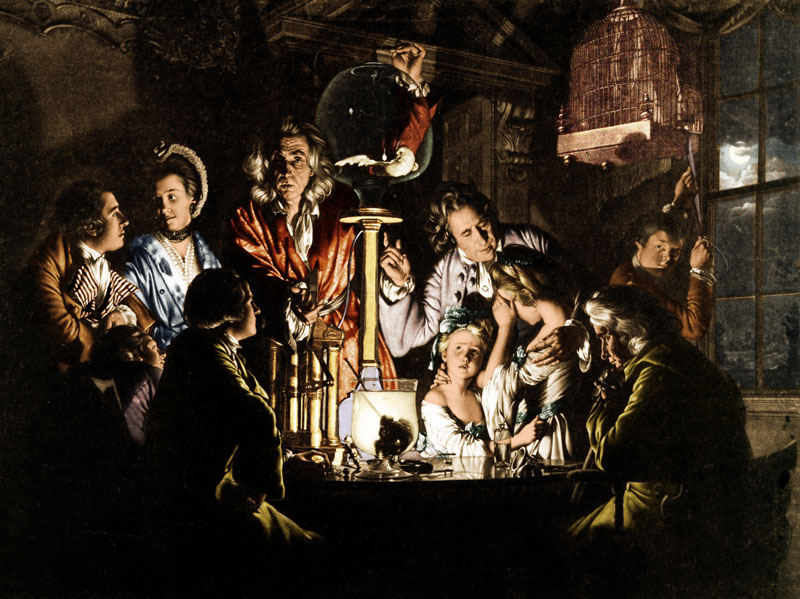 An Experiment on a Bird in the Air Pump
Magician, madman or murderer?
Which of these are you mister wild man
with your jungly hair and monster's eyes?
Have you sacrificed that sweet bird
merely for fun, for macabre effect, or truly
in the cause of education for me,
my siblings and my family?
Look! My sister is in tears, with little comfort from Papa.
Mama is worrying for us all, and Grandfather,
as ever, is just lost in contemplation.
Not one of us appreciates your feint;
that you will turn the tap,
release the air, and bring her back to life again.
And you, Sir? Mister "Joseph Wright, of Derby."
Which of those might you yourself be?
How cleverly you play with light,
and so few colours on your palette,
daring to intimate to simple people
the threats and opportunities that
science, technology and industry
may bring them in the coming days.
© John Wright
Picture 13344711, reproduction of painting by Joseph Wright of Derby, 1768, image copyright Mary Evans / Science Source
John Wright is thrice retired – firstly from being a pilot, secondly from a career in advertising, and most recently, as a lecturer in marketing and business at international universities. Apart from a twenty-five year interlude, he has been writing poetry since his teens, and suddenly rediscovering his muse about ten years ago, he says he now just can't stop, and recently gained an MA in Creative Writing (Poetry) at The University of Kent, Canterbury. From choice, he writes about the sea (he keeps a small yacht in The Solent), landscape (he flies microlight aircraft and gliders over Sussex), the fragility of human relationships (his third, and "final" wife has also been three times married), and such political issues that have him raging over his breakfast newspaper. From October to June he lives on the edge of Eastbourne, in sight of the South Downs, and – on tiptoe – the sea, and in summer he decamps to his 'Shed' in southern France. He believes he may still have four grown-up children, and four grandchildren, but you know how it is, they never phone, rarely call back, and have always already made other arrangements for Christmas.